25 Cool Guest Bedroom And Home Office Combos
Posted on Jun 11th 2018
25 Cool Guest Bedroom And Home Office Combos
By DigsDigs
Posted By Marika 6-12-18
Not everybody has a large house and if you face the problem of lack of space, combining the spaces is a great idea to solve it. We've already shown how to incorporate a home office into a bedroom, living room and kitchen and today I'll share another popular combo: a guest bedroom with a home office.
There are two ways to go: a seamless transition without any space division or visually separating the two zones with design and furniture or colors. You may also go for a sleeping zone with a comfy bed or in the case of extreme lack of space choose a convertible sofa that will become a bed when necessary. Let's take a look at all the examples.
Combos With Beds
If you have enough space in the guest bedroom, spoil your guests with a real bed and visually divide the working and sleeping zones. Choose a desk in a different shade, place it by the window or next to a wall far from the bed. One more cool idea to divide these zones is making an upper level for the bed and placing the desk under it. If you can't spend too much space on the working zone, go for a windowsill one, which is no less functional than a usual desk.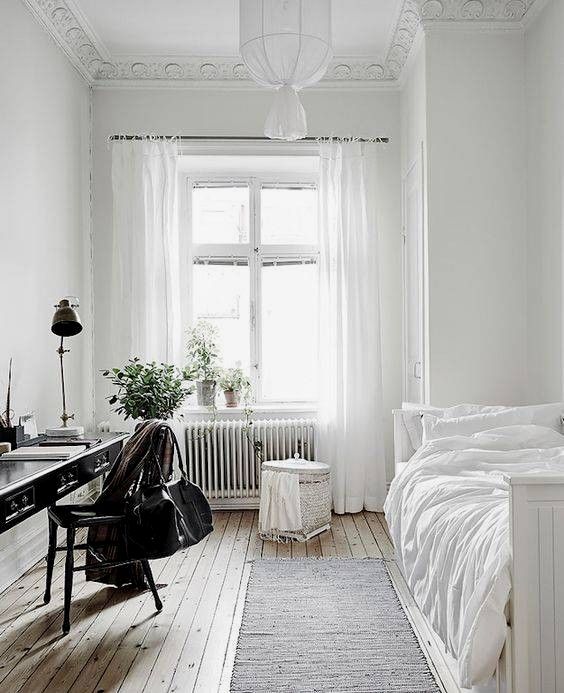 a serene and airy guest bedroom with lots of white and a vintage black desk plus chair to stand out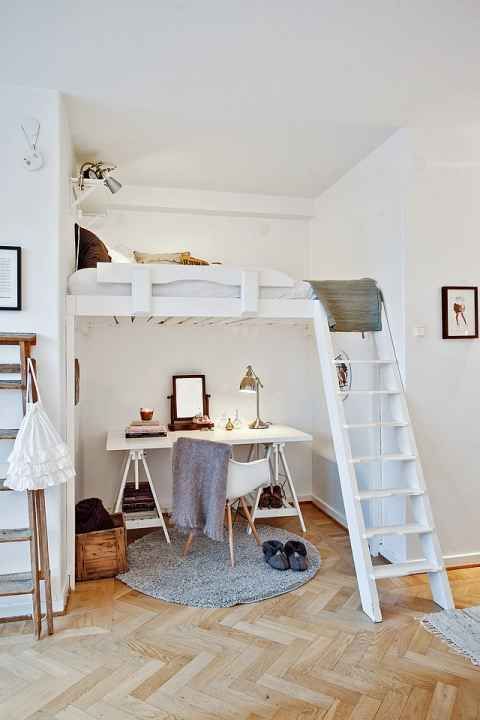 place the desk down and create an upper floor for the sleeping space to divide the zones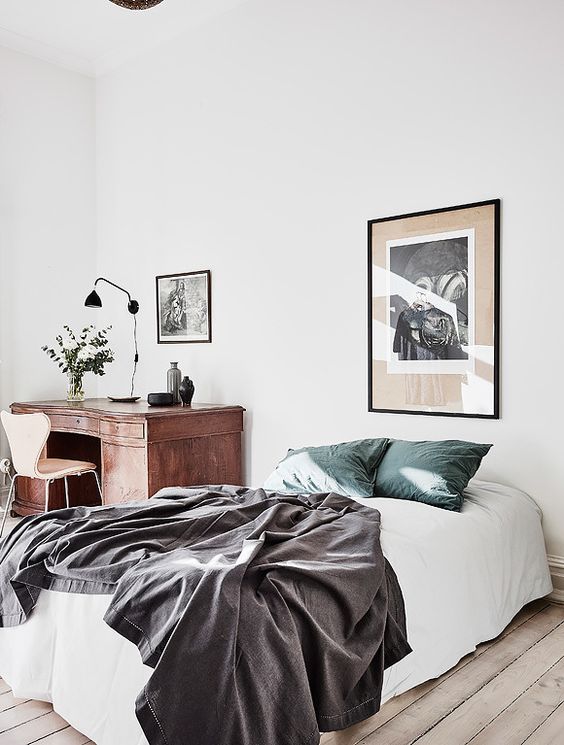 an airy and light bedroom with a bed and a vintage wooden desk in the corner
a woodland-inspired guest bedroom with a desk by the bed to use it as a nightstand too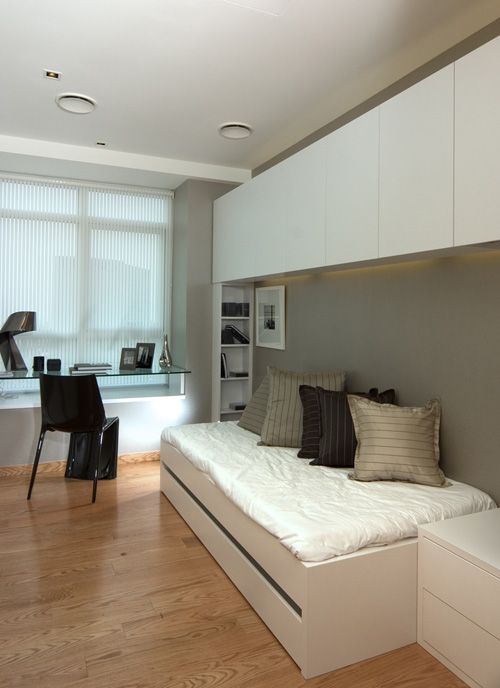 a small contemporary bedroom with a sleeping space, cabinets for storage and a glass windowsill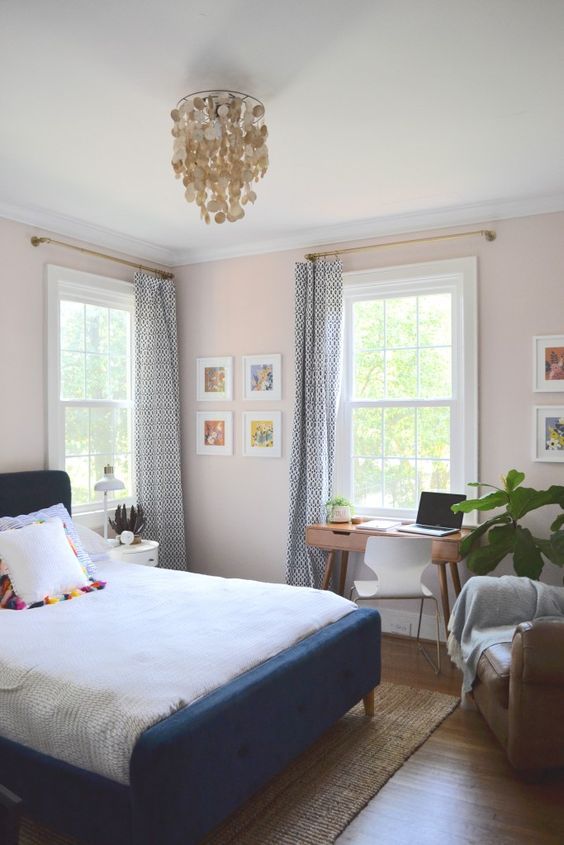 a cozy and wlecoming guest bedroom features a small desk by the window and a modern chair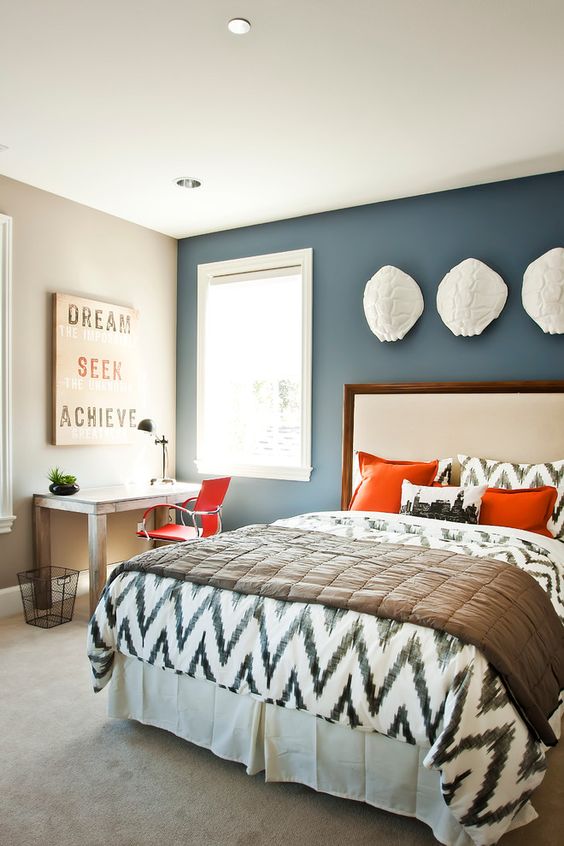 a guest bed and a home office are tied with the use of orange, which makes the space cool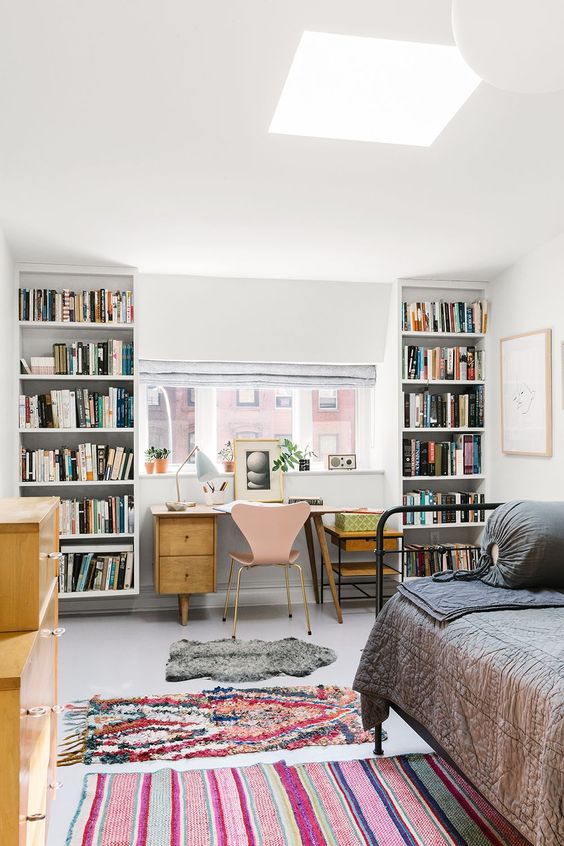 a guest bedroom with a home office space with bookcases and a wooden desj by the window for comfortable working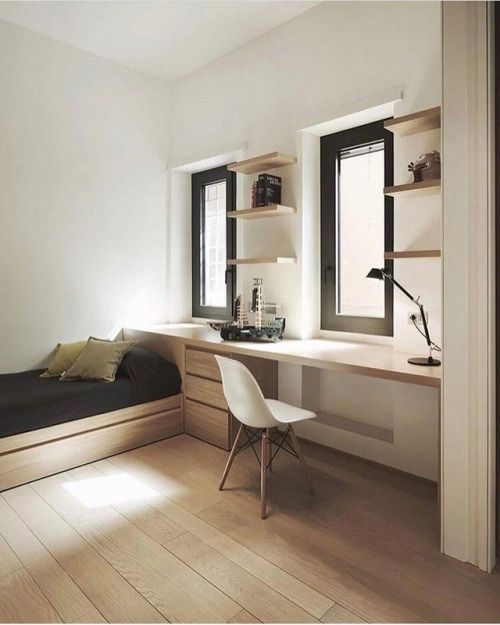 a minimalist guest bedroom with a bed and a desk by the window is done flawless and seamless
Combos With Sofas
If your guest bedroom is very small, you should substitute a bed for a convertible sofa, which doesn't take much space yet gives enough sleeping space at the same time. As for the desk, it can be a windowsill or even a built-in one with built-in shelves. If the room is tiny, there's no need to separate the spaces anyhow, and there are many combos that allow placing the bed and the desk very closely, the desk can be used as a nightstand.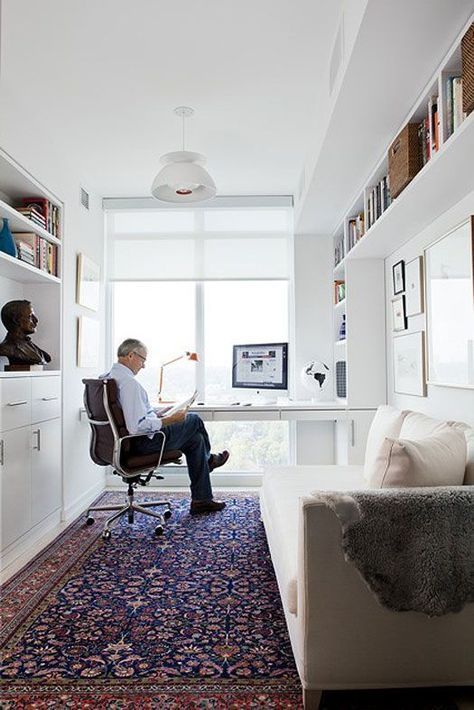 a built-in desk and bookshelves by the window and a daybed that becomes a sleeping space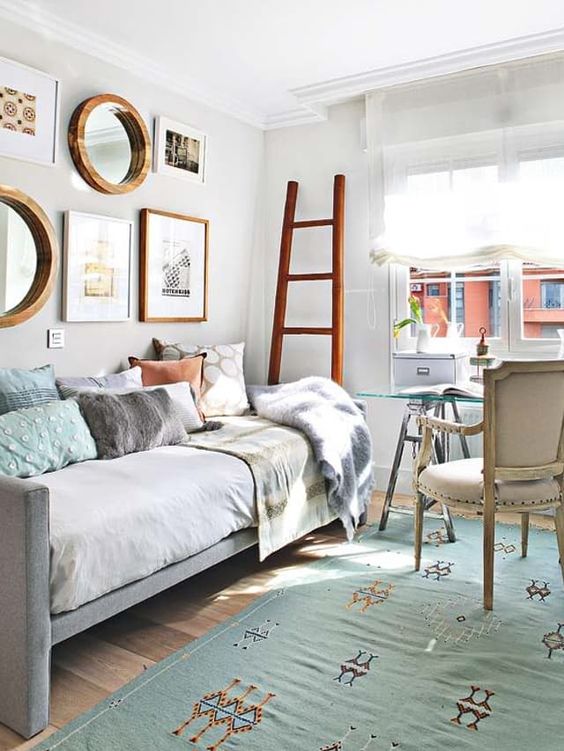 a convertible sofa instead of a bed and a glass desk by the window for a small space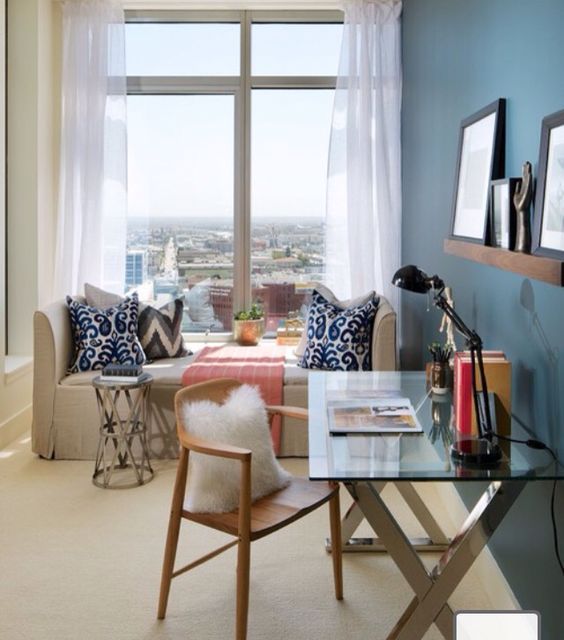 a guest bedroom with a stylish bed by the window and a glass and metal desk for working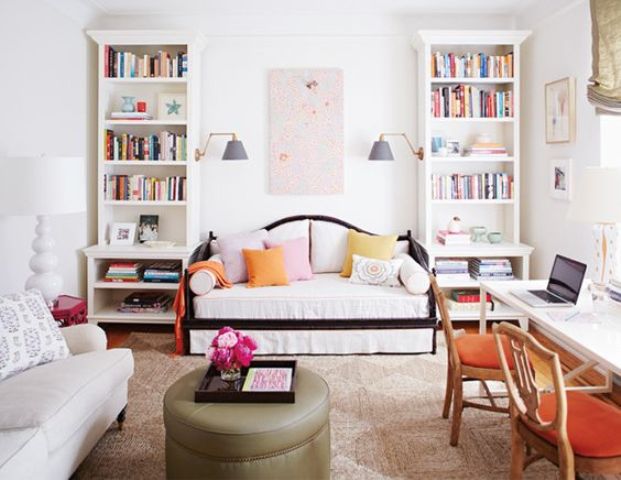 a guest bedroom with two convertible sofas as sleeping spaces and a shared home office by the window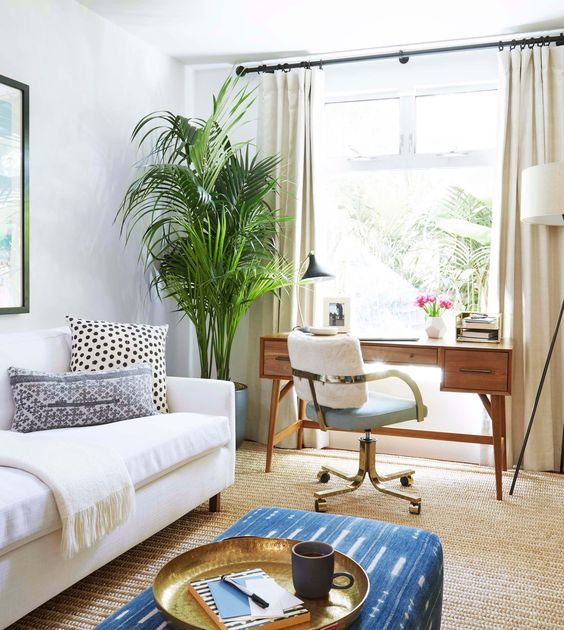 a modern boho space with a convertible sofa and a mid-century wooden desk by the window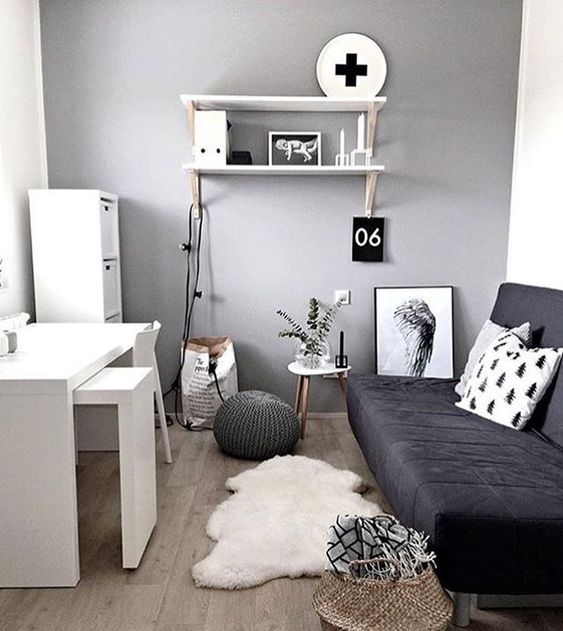 a Scandinavian bedroom with a black transformable sofa and a white desk plus some drawers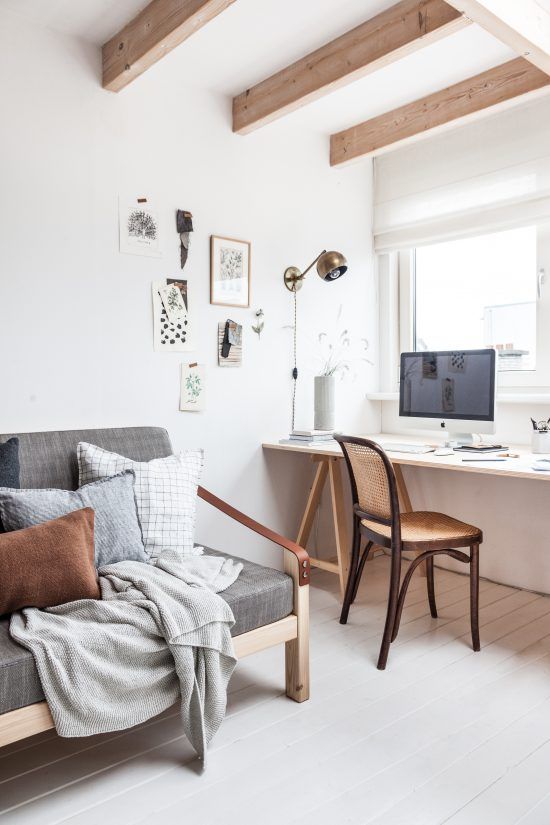 a serene and airy guest bedroom with a comfy sofa for sleeping and a desk by the window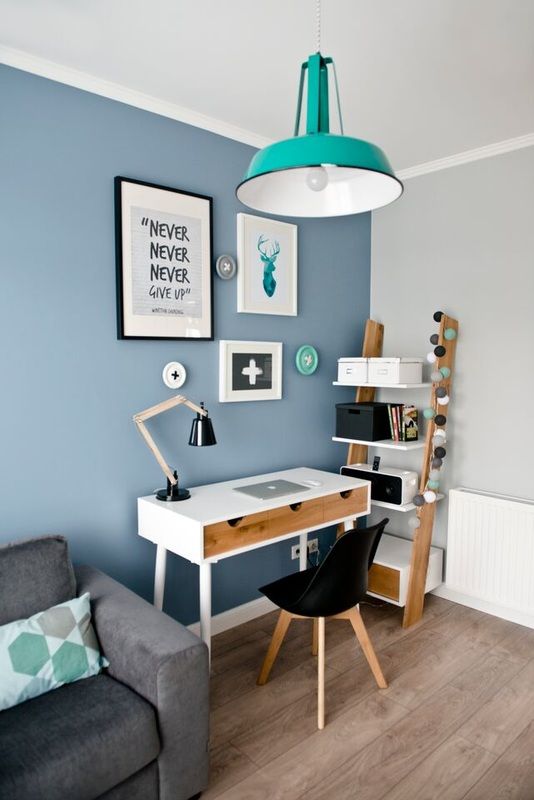 a small home office nook with an open shelf and a comfy mid-century desk with drawers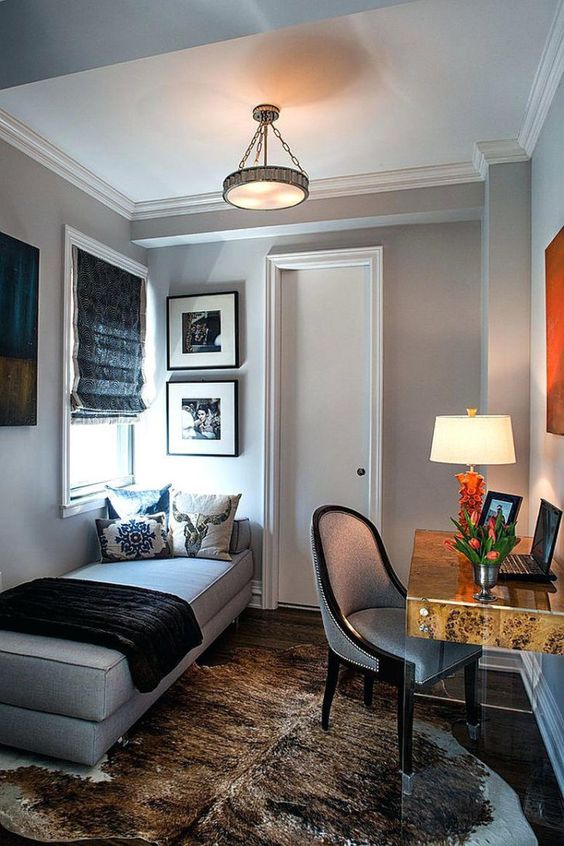 a small space with a daybed to be used for sleeping and a chic desk with a chair for a home office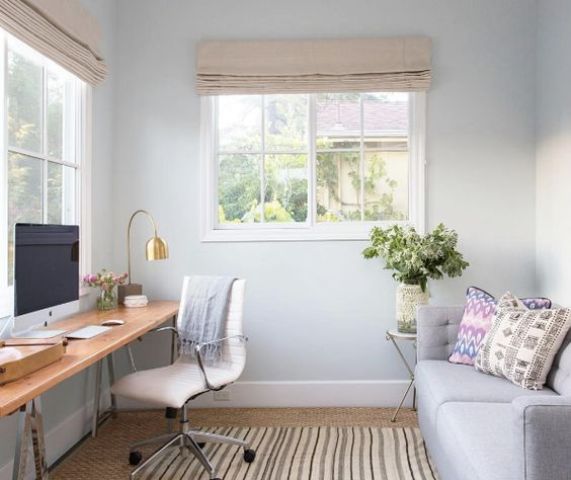 a small yet clean home office with a wooden trestle leg desk by the window and a grey sofa that can become a bed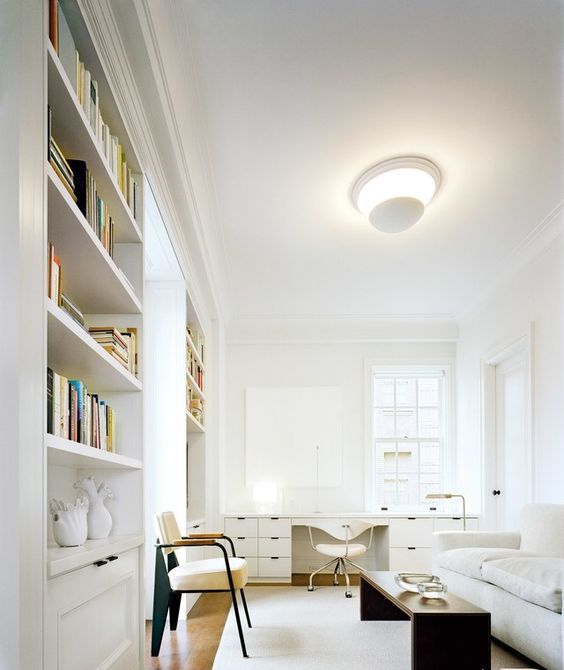 a very elegant space with a convertible sofa, bookcases and a large desk by the window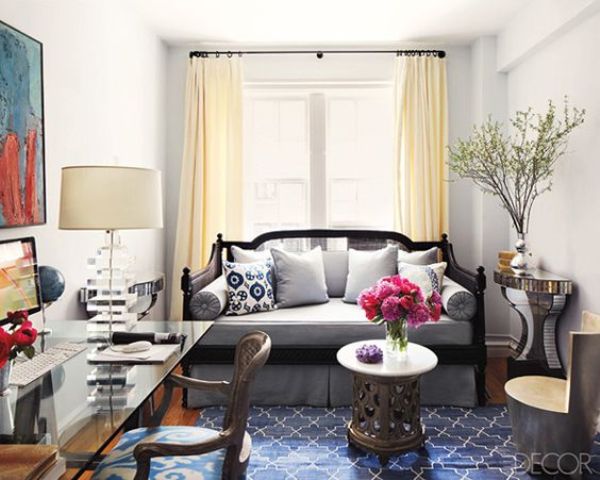 a whimsy guest bedroom with a sleeping space and a glass desk that looks airy and ethereal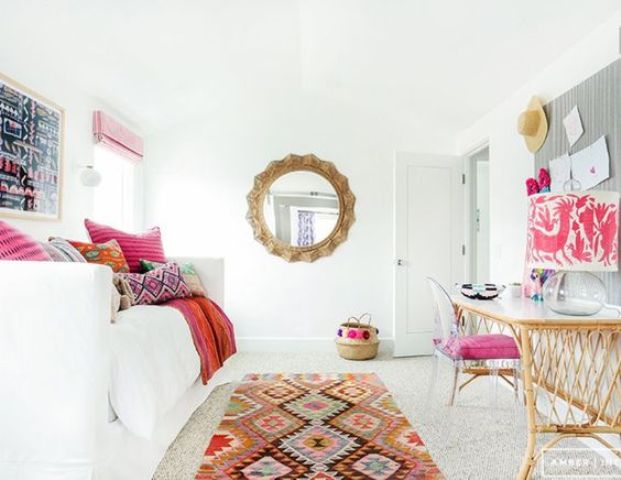 an adorably colorful guest bedroom with a convertible sofa and a wicker desk plus a pink chair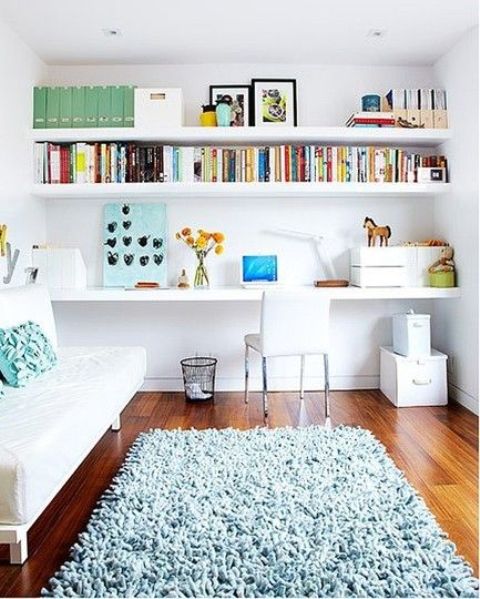 an airy and bright space with built-in shelves and a desk plus a small sofa to turn into a bed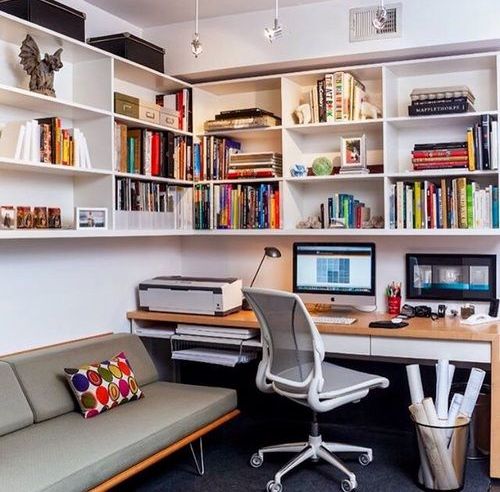 if the space is small, go for a transformable sofa and a desk like here plus bookshelves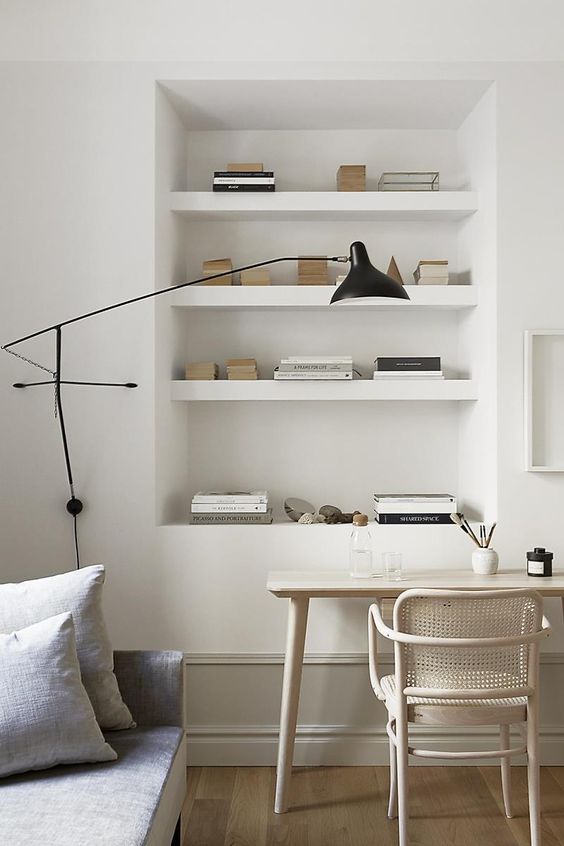 place a convertible sofa and a small lightweight desk plus built-in shelves to save much space