27 Trendy And Chic Copper Kitchen Backsplashes
Posted on Nov 28th 2016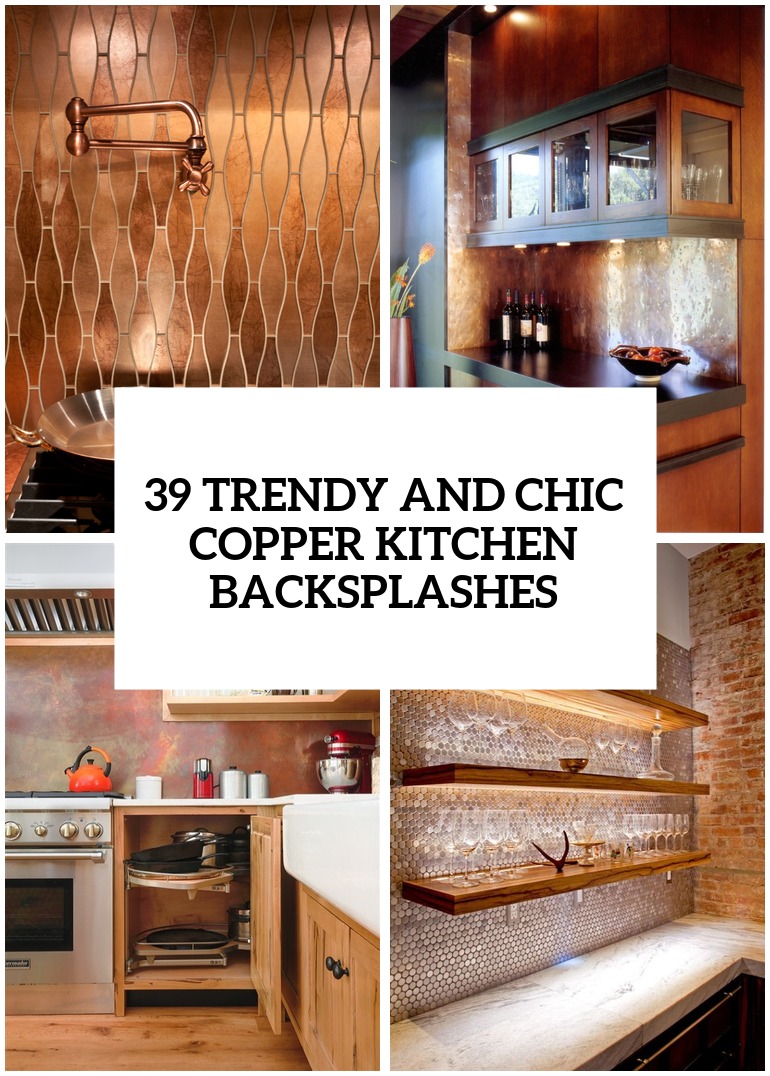 Metallic décor got super popular several years ago, and silver and brass popped up in different spaces. But now a metallic shade that is the most popular one is copper because it makes you space look more refined, glam and chic, and this color isn't hacky. Copper lamps, frames, tubing add a chic touch to any space and perfectly fit any décor: modern, industrial, glam, rustic and many other types. If you want to follow the trend and give your home a trendy copper shine, there's a great and durable idea for your kitchen. Today we are sharing some ideas for copper kitchen backsplashes that are going to spruce up your kitchen and make it very stylish.
Copper backsplashes can easily fit most of cabinetry colors: white, emerald, black, navy, brown and so on. You may go for the wood in some similar color as copper and get a cozy warm-colored kitchen or create a contrasting look with bold cabinetry and a copper backsplash. A shiny copper piece will spruce up any space and add a bit of glam and chic, and if you light up the backsplash, it will reflect it and look even more attractive.
Copper Tiles
Tiles are very popular for backsplashes of any kind because they look posh and are long-lasting, they also withstand high temperatures that can appear around the cooking area. As for copper tiles, the most popular option here is copper penny tiles, especially in several different copper shades. Speaking of copper penny tiles, you can even install your own backsplash of real pennies and get a unique look. Small square or rectangular tiles are also a cool option, they will highlight art deco or industrial style very well. Mosaic tiles or tiles that just have a copper color have a great look, and if you choose glass, for example, the backsplash will have a unique textural look. There are even wooden tiles with a copper finish to get a textural look.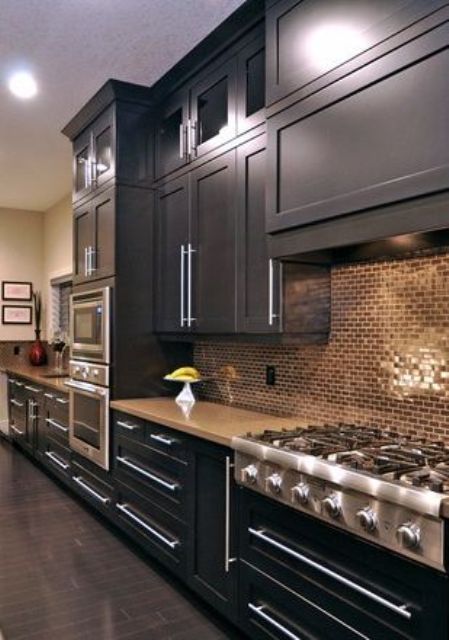 black kitchen with copper tile backsplash looks bold and chic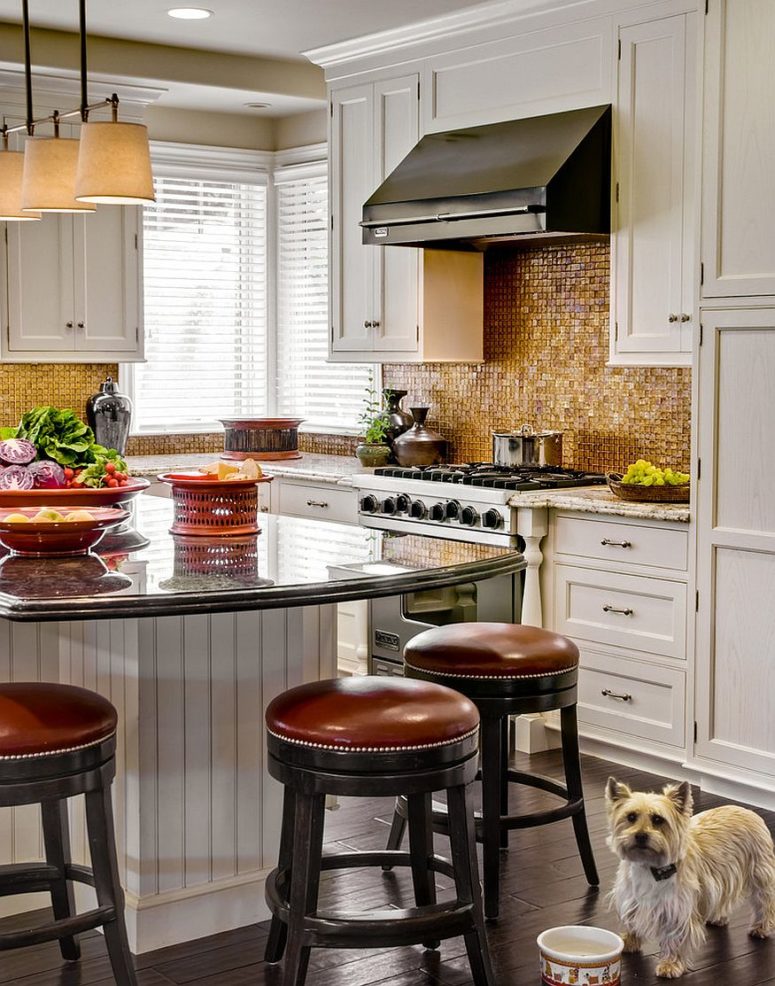 copper glass tiles give a unique textural look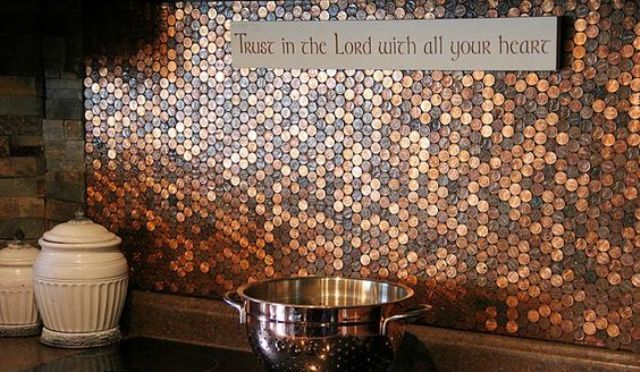 copper penny tile backsplash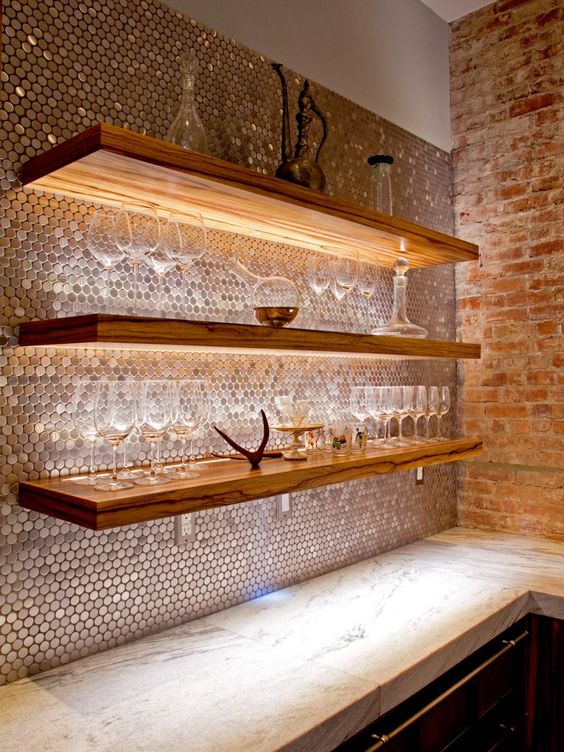 copper penny tiles look good with wooden shelves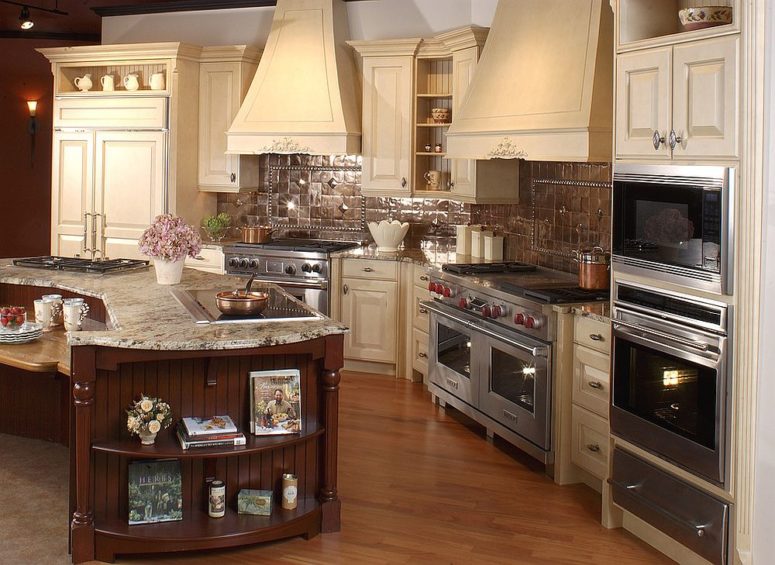 copper tiled backsplash for the spacious, traditional kitchen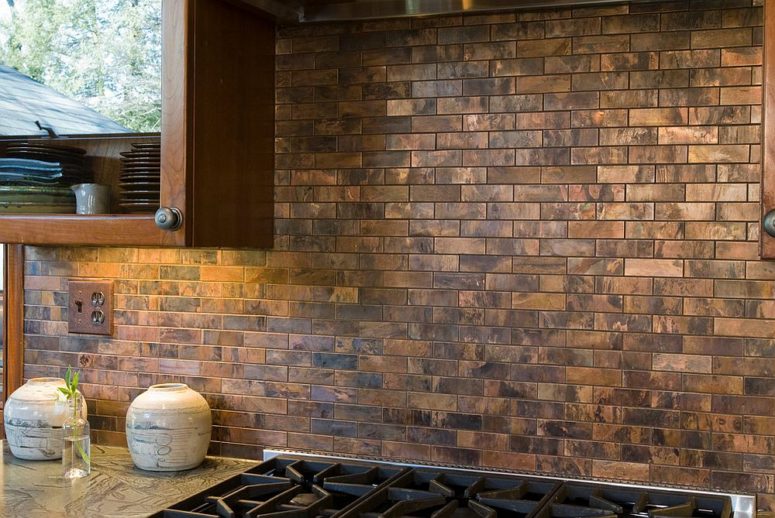 copper tiles reminding of bricks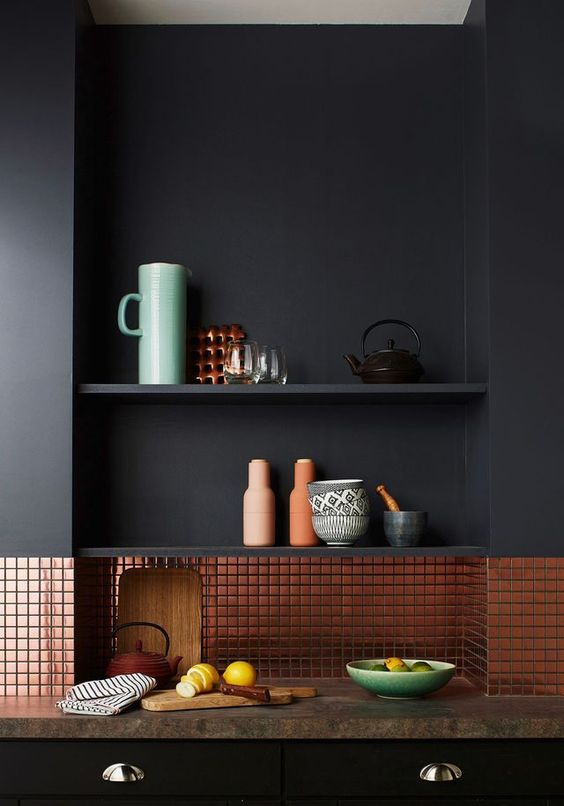 matte black kitchen with a tiny copper tile backsplash looks minimalist and very chic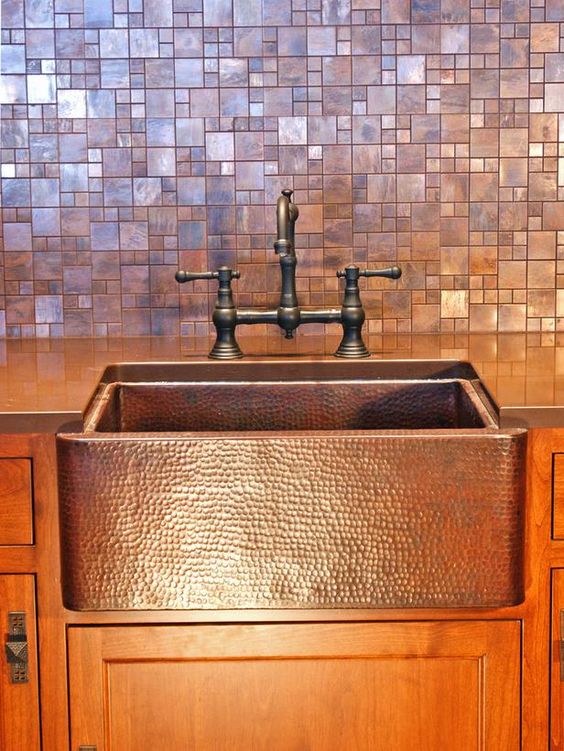 metallic mosaic tiles in copper and a metal copper sink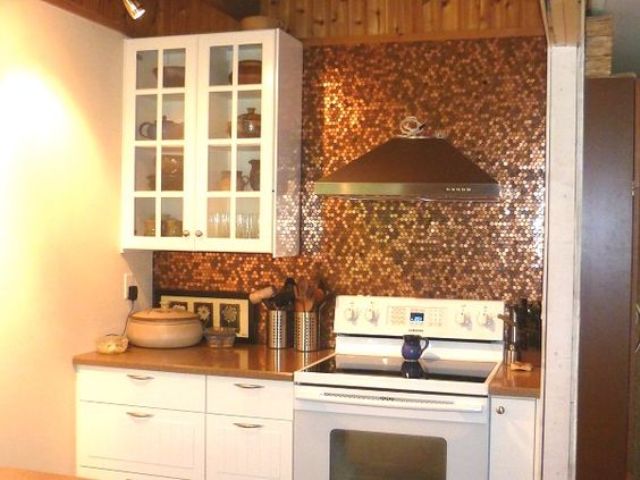 penny tile backsplash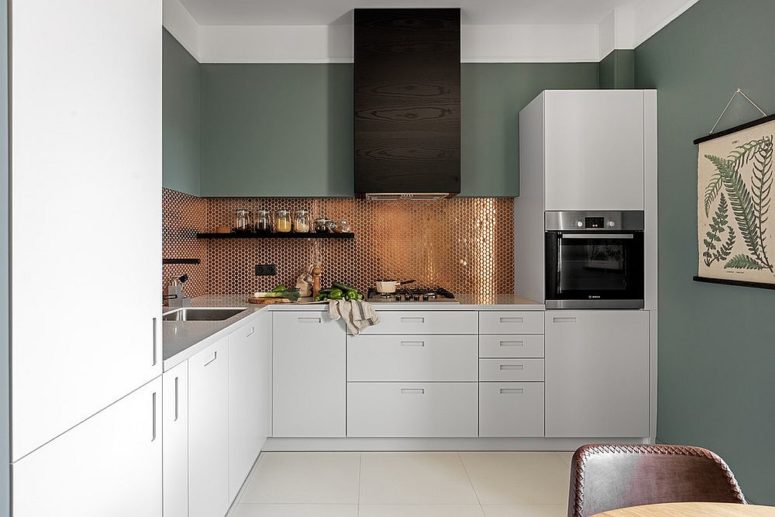 sleek contemporary kitchen with a sparkling copper penny tile backsplash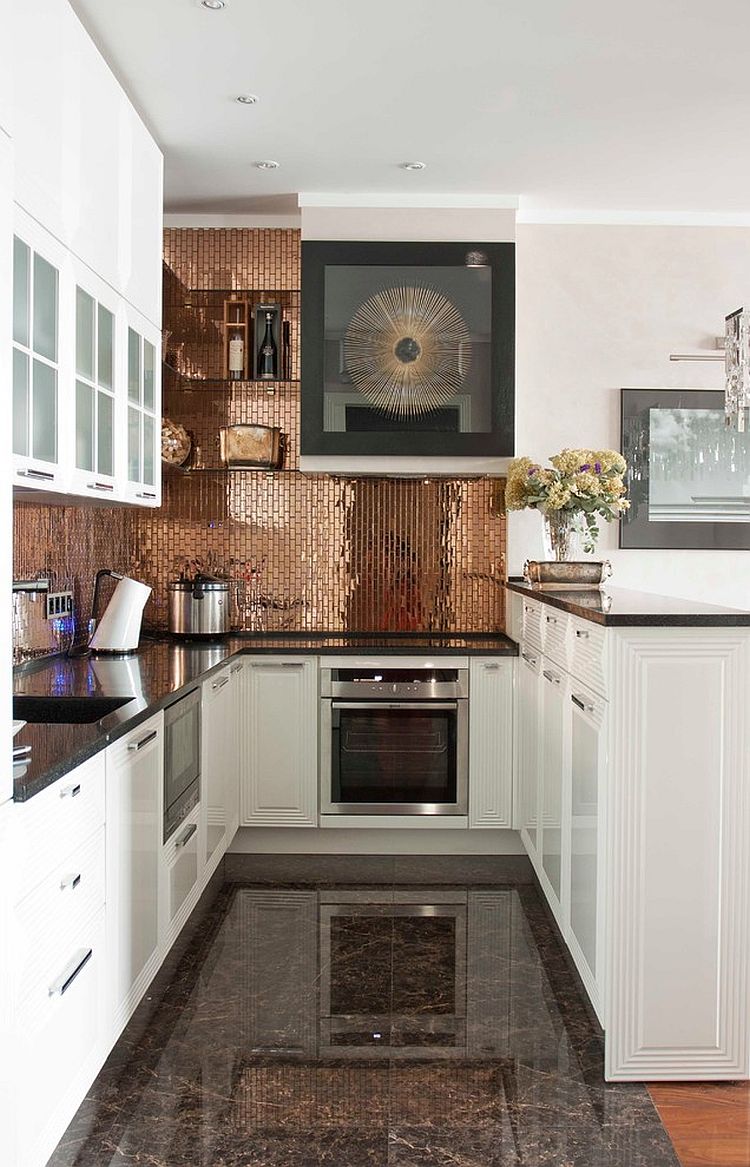 tiny copper tiles, marble floors and white cabinets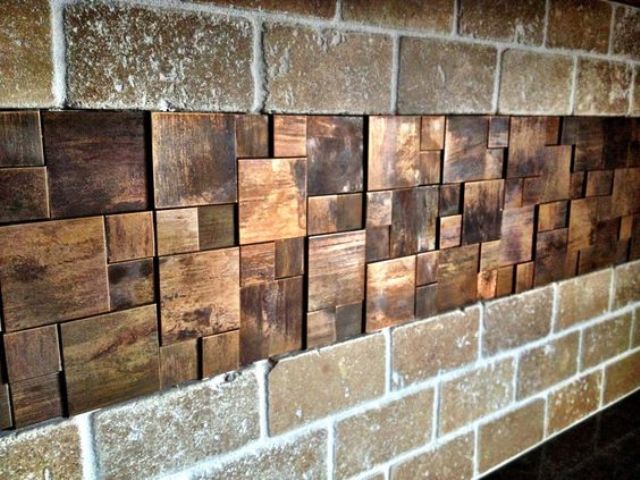 unique copper mosaic metal backsplash tiles
Metal Copper Backsplash
Metal copper sheets are another option for decorating backsplashes, they are even more durable than tiles and look no less amazing. A plain shiny metal copper backsplash is a cool thing because it easily glams up any kitchen, I especially love modern and minimalist black and white kitchens with a matte finish and a shiny copper backsplash. A shiny copper backsplash is a must for an art deco kitchen. You can install a plain or a hammered copper backsplash yourself, cover the whole kitchen space or just create this backsplash behind the cooker and cover all the rest with some different tiles. There's another way: a patterned pressed copper backsplash, the patterns may be different and you can give any feel and twist to your kitchen with that. Such a backsplash looks very eye-catching, refined and chic, for example, if you try a Moroccan patterned backsplash of pressed tin with plain cabinetry, it will look amazing.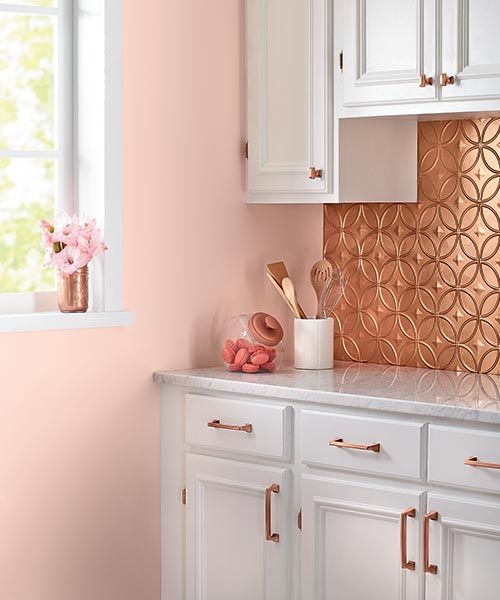 a tin-tile backsplash, matching copper cabinet pulls, and serene pink walls make for a charming kitchen corner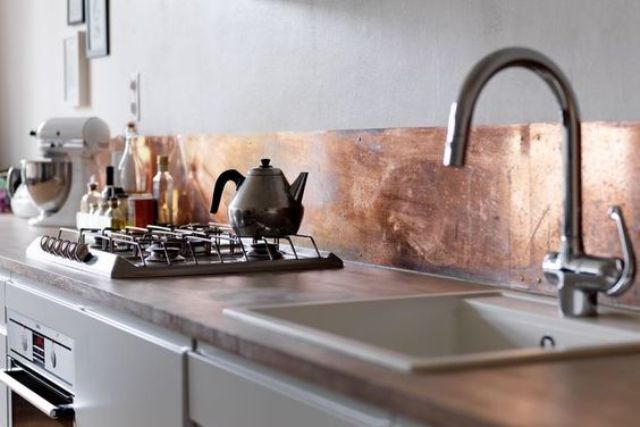 a white kitchen with a low copper kitchen backsplash looks airy and beautiful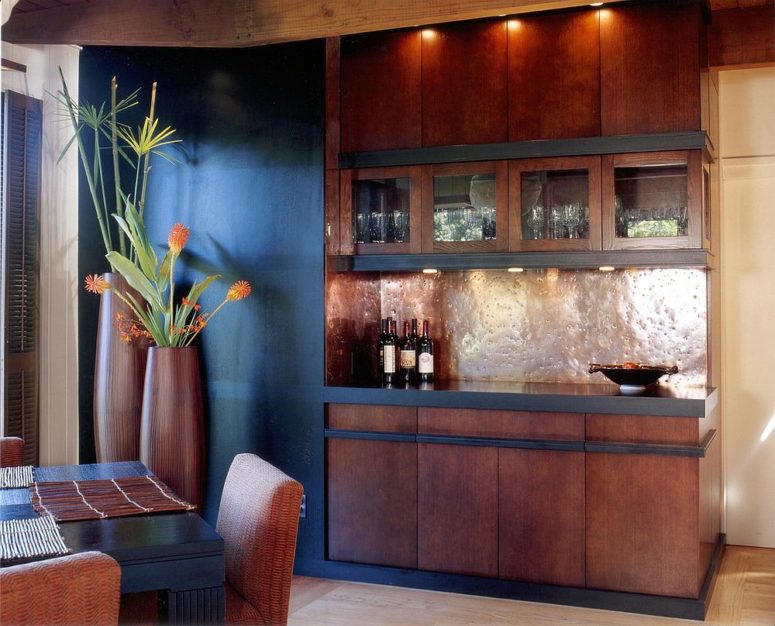 copper backsplash idea for contemporary kitchen
emerald kitchen with a copper backsplash and fixtures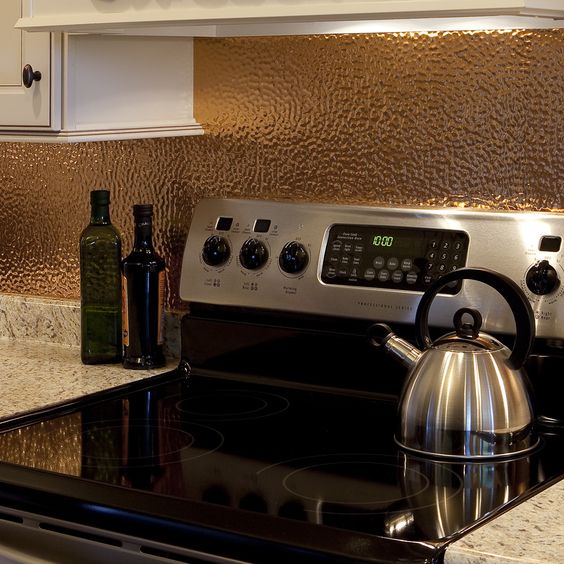 hammered and polished copper metal backsplash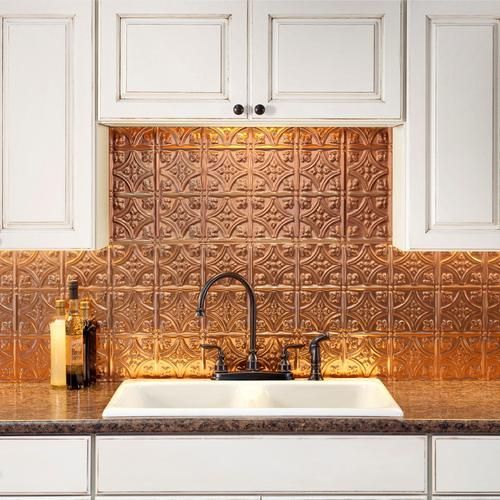 intricate fretwork patterns for a chic Moroccan inspired look and plain white cabinetry look refined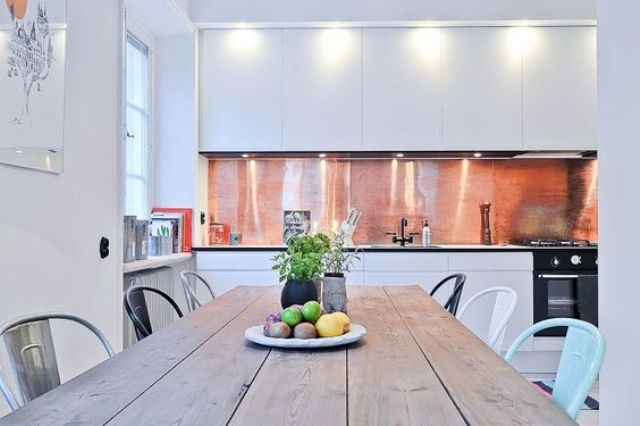 minimalist white kitchen with a polished copper backsplash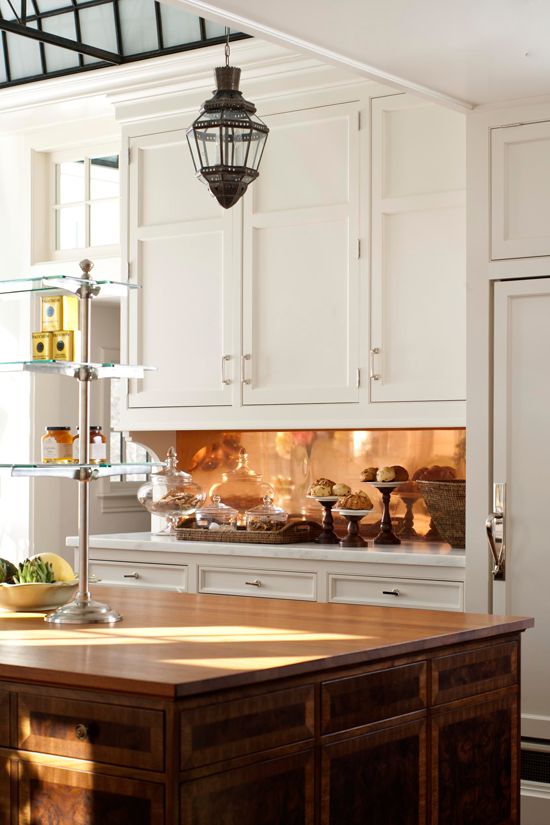 plain white cabinets are glamed up with a polished copper backsplash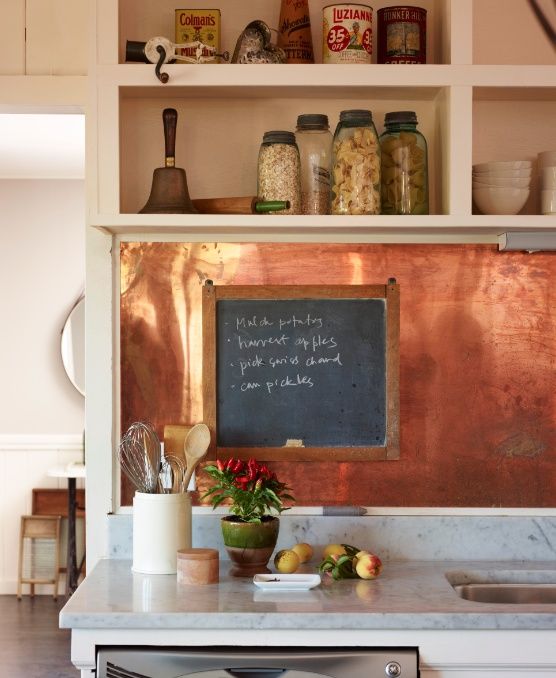 polished copper sheets look rustic and eye-catching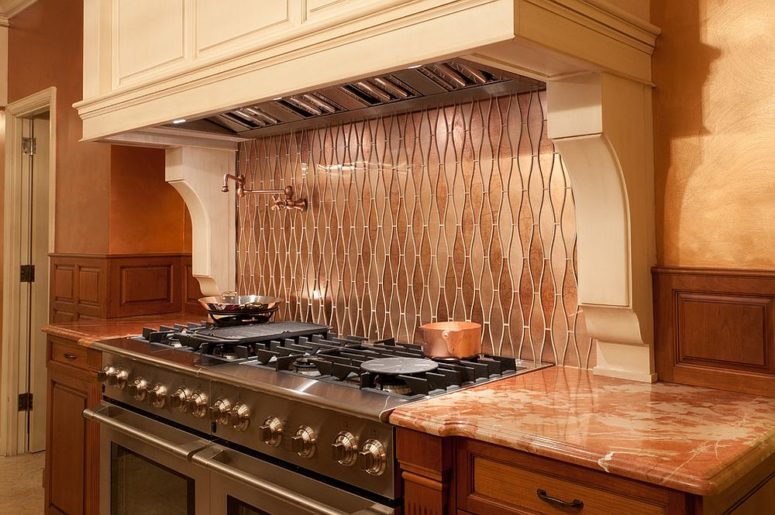 small modern kitchen with custom copper backsplash that also adds pattern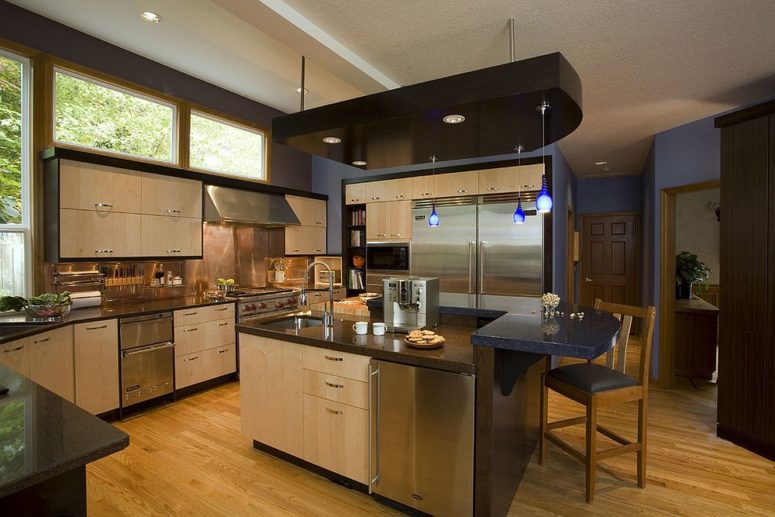 stainless steel kitchen with a polished copper backsplash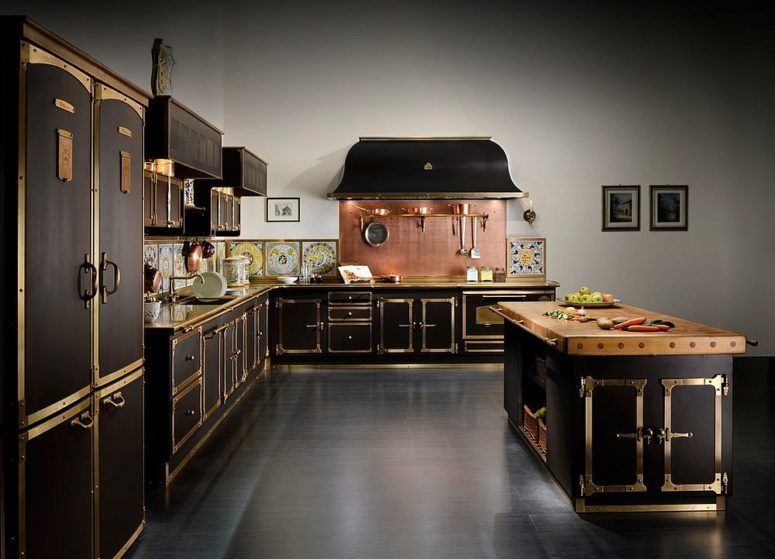 stunning black art deco kitchen with a copper backsplash is bursting with style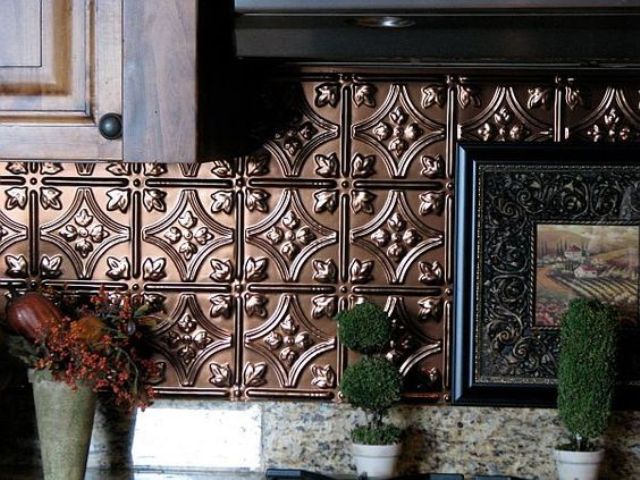 stylish copper backsplash from pressed tin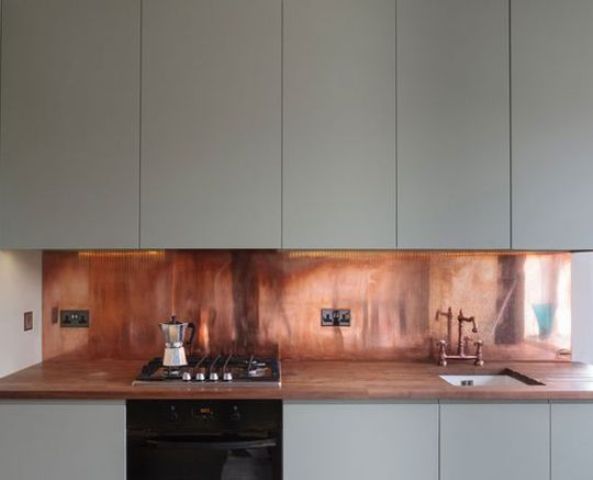 warm copper adds a sense of luxury to this kitchen
white subway tiles and a copper backsplash for the cooker