4 Tips And 30 Ideas To Spruce Up Your Kitchen
Posted on May 17th 2017
By Kate
Posted by Marika 5/17/2017
4 Tips And 30 Ideas To Spruce Up Your Kitchen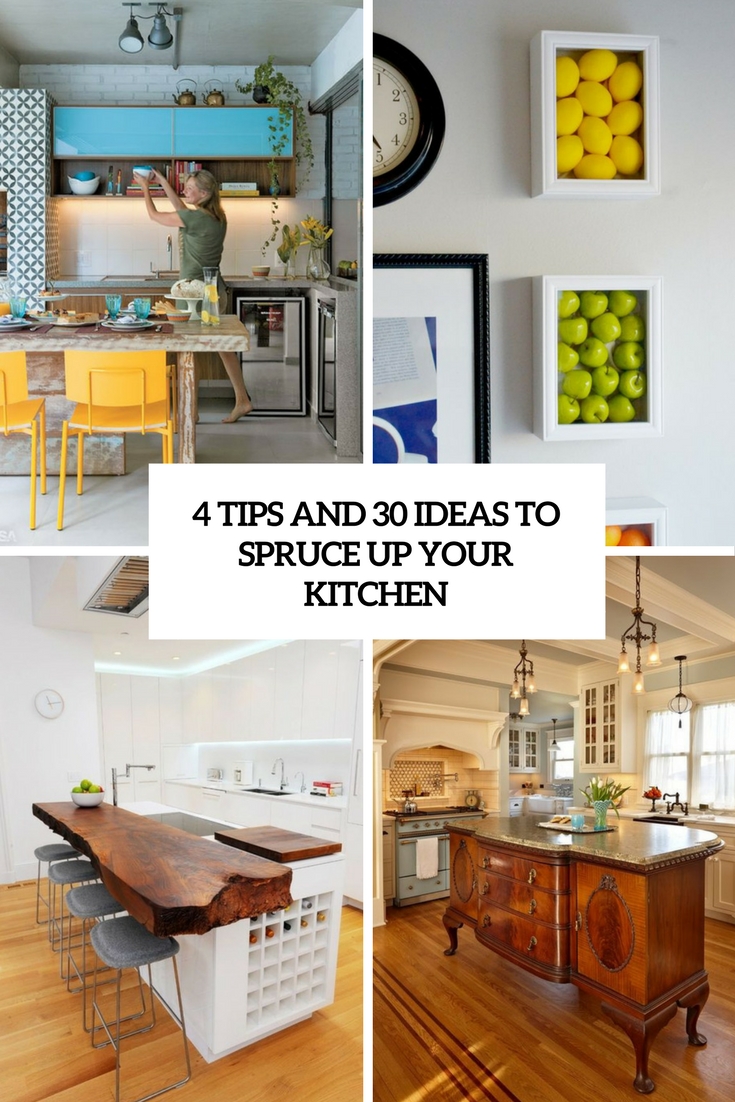 Spring is the time of changes, and your look and your home décor are among the first things that you want to change. As for home décor, you can do several simple things to spruce up your décor for spring and summer and make the spaces look fresher. If you are willing to renovate your home décor, redesign your kitchen: it's the space where you go to make some coffee in the morning, so it gives you mood for the whole day. How to do that without much fuss? Let's see.
Add Colors Or Prints
Adding some colors and prints is always a great idea to refresh any space. You can do that for cheap and there are lots of ideas to realize: a statement color wall,bold wallpapers, cabinets, countertops and so on, and you can DIY them. If you don't want to spend much money, just paint the kitchen island or create a super colorful backsplash. Artworks and photos can also add a chic look to the kitchen, and as it's a kitchen, you can also use colorful textiles to spruce the space up.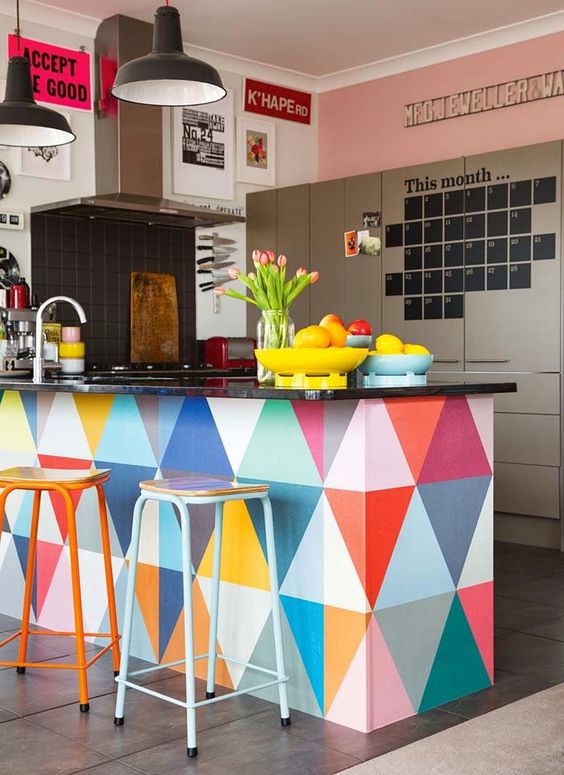 paint your kitchen island with bold triangles to add a bold touch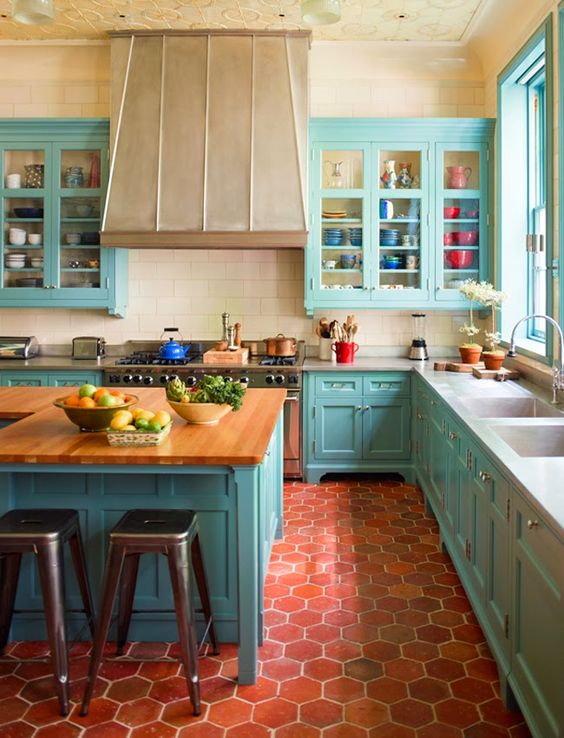 bold turquoise kitchen cabinets contrast with red tiles on the floor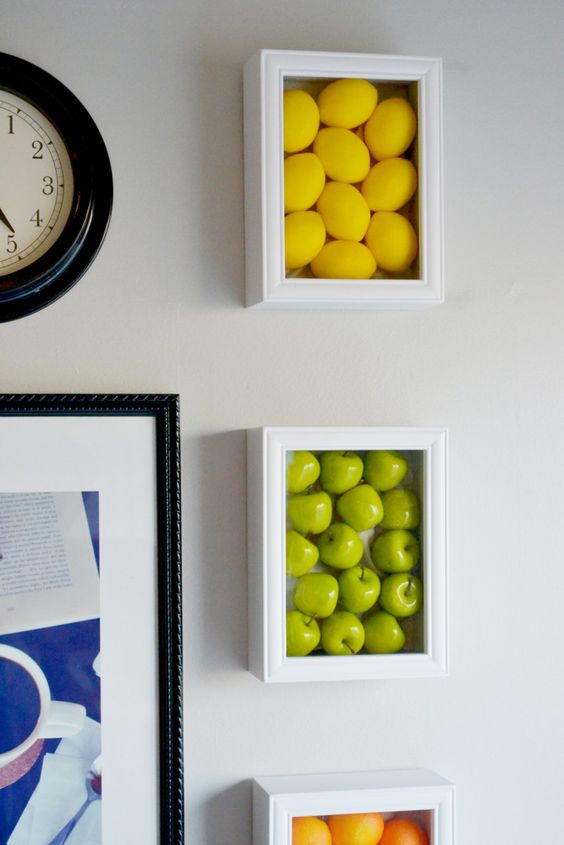 colorful kitchen wall art with fake fruits looks awesome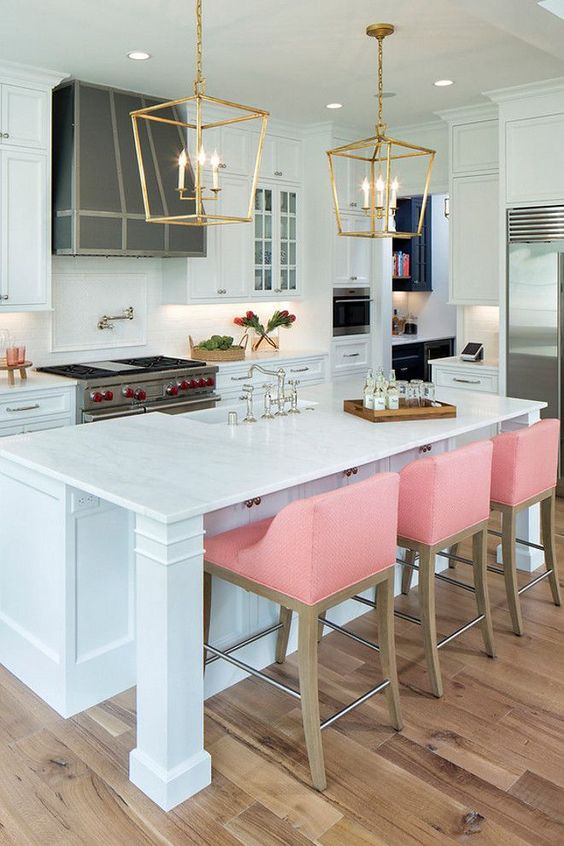 pink upholstered chairs for the breakfast area will spruce up the kitchen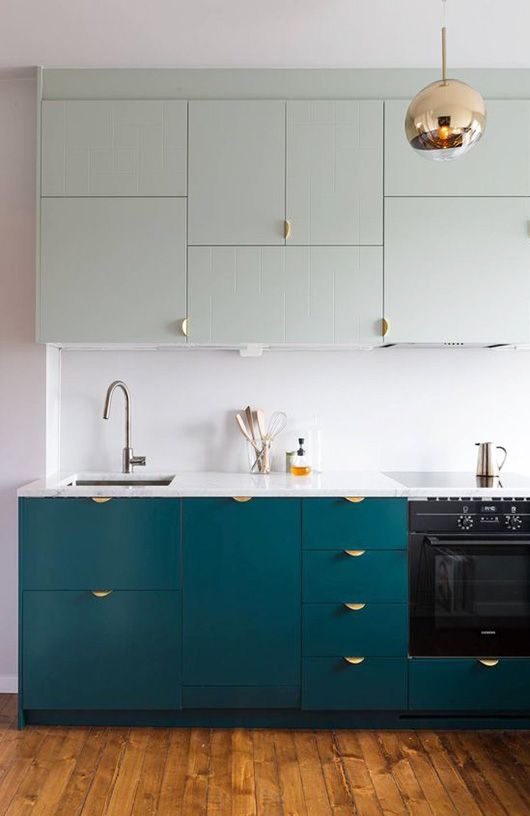 chic teal cabinets with gold handles make a cool statement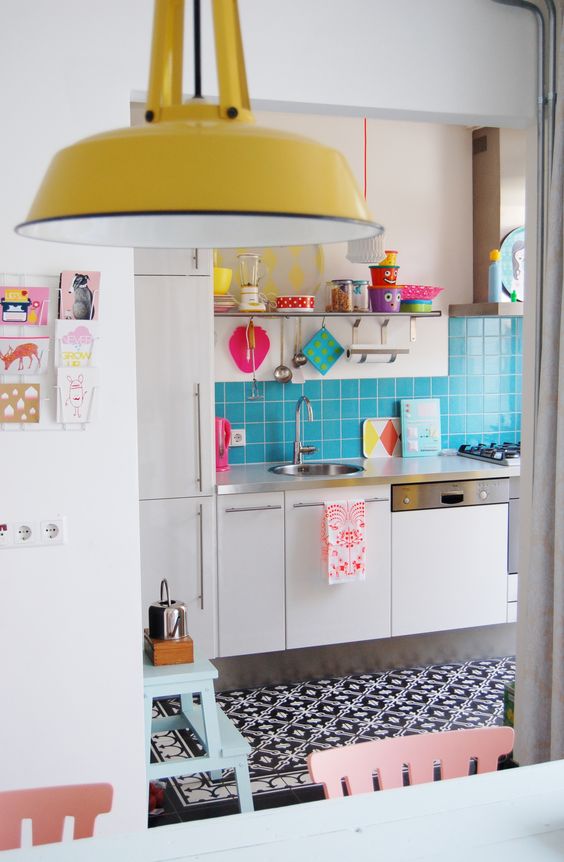 a bold light blue tile kitchen backsplash and colorful dishes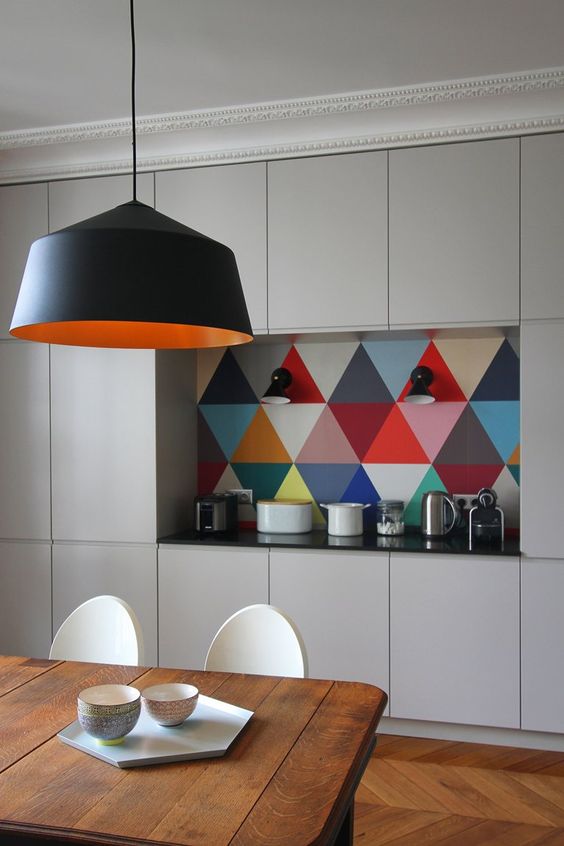 a colorful geometric backsplash makes this plain modern kitchen pop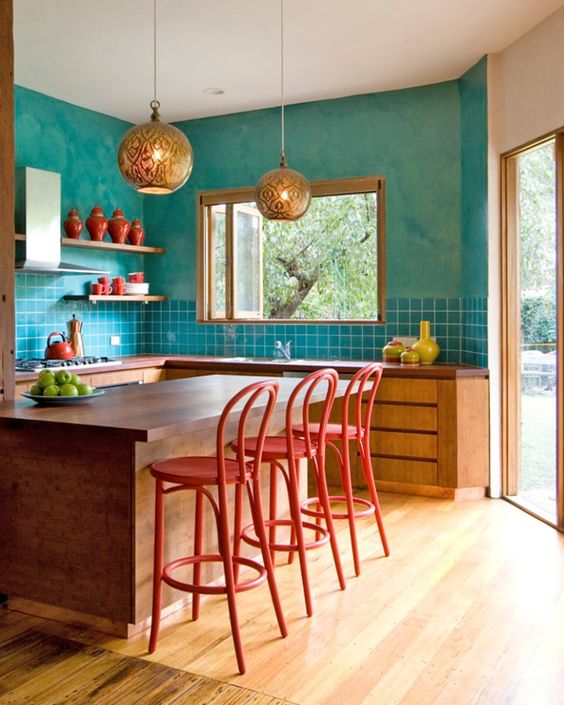 turquoise walls, tiles and red chairs for a Morocco-inspired interior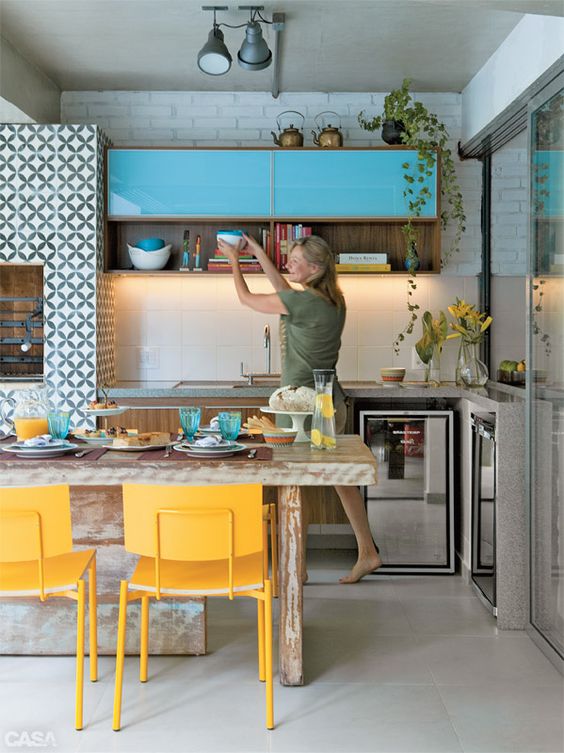 bold blue cabinets and sunny yellow chairs for an eye-catchy space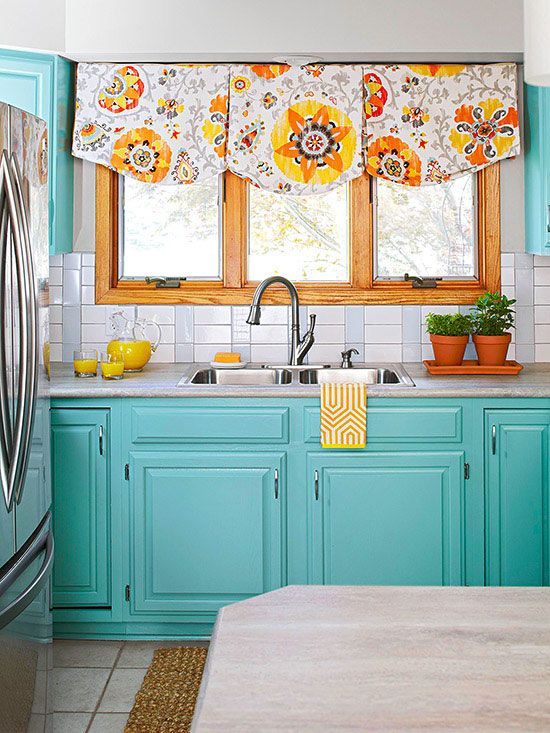 colorful blue cabinets and bold floral curtains make the kitchen spring-like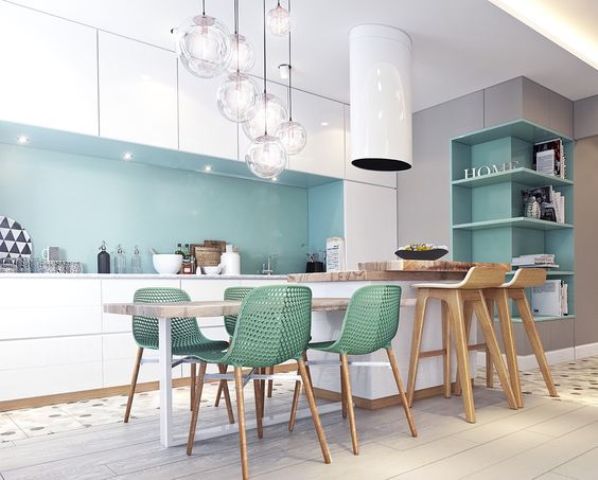 a white ktichen is spruced up with a mint backsplash and green chairs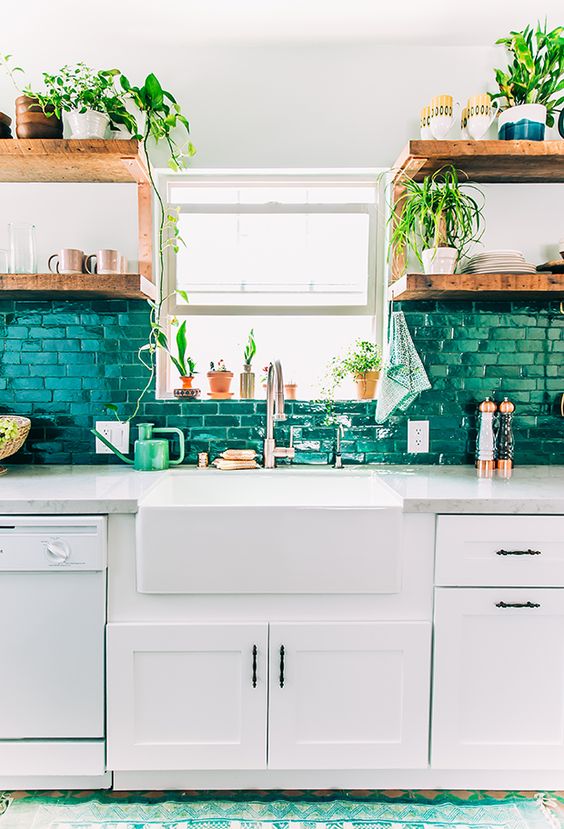 a brick backsplash painted in emerald color echoes with greenery
Make Creative Countertops
Kitchen countertops can be changed for cooler ones, and this is a great idea to make a statement. Glass, wooden, granite, marble counters can easily spruce up any kitchen. Choose some contrasting ones with your cabinets to accentuate them and achieve a cool and bold look, and such materials as marble or stone will be long-lasting and durable also.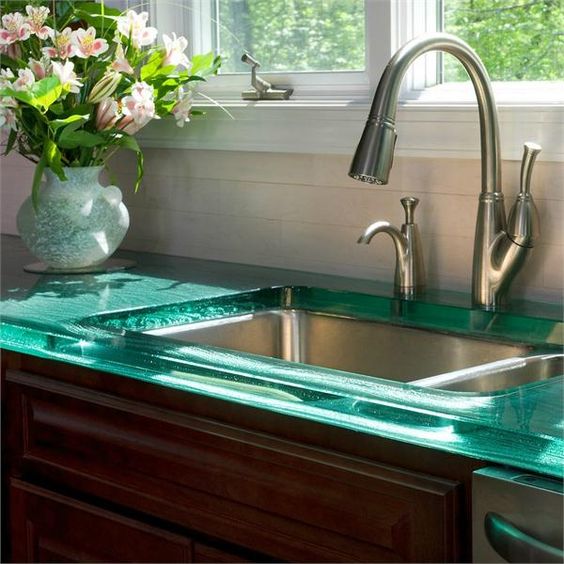 green glass kitchen countertops look stunning and unique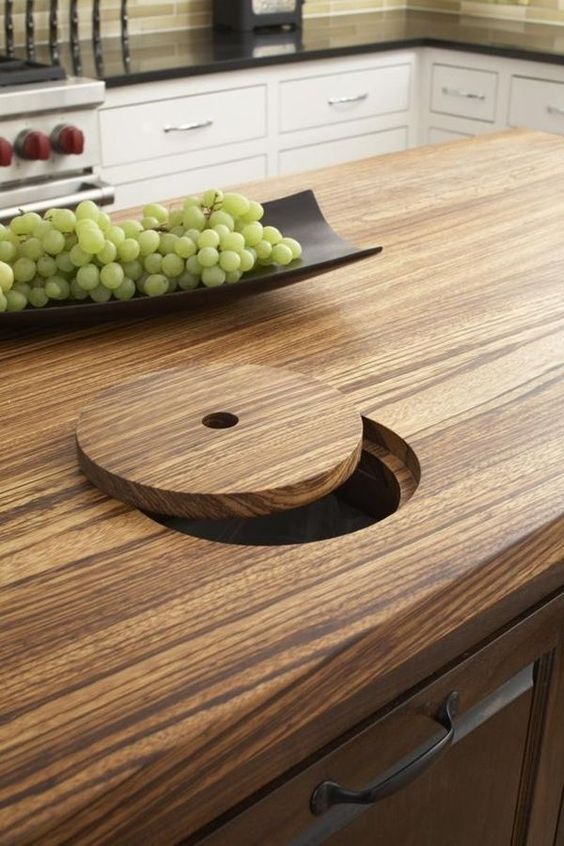 adorable wooden kitchen countertop looks textural and very refined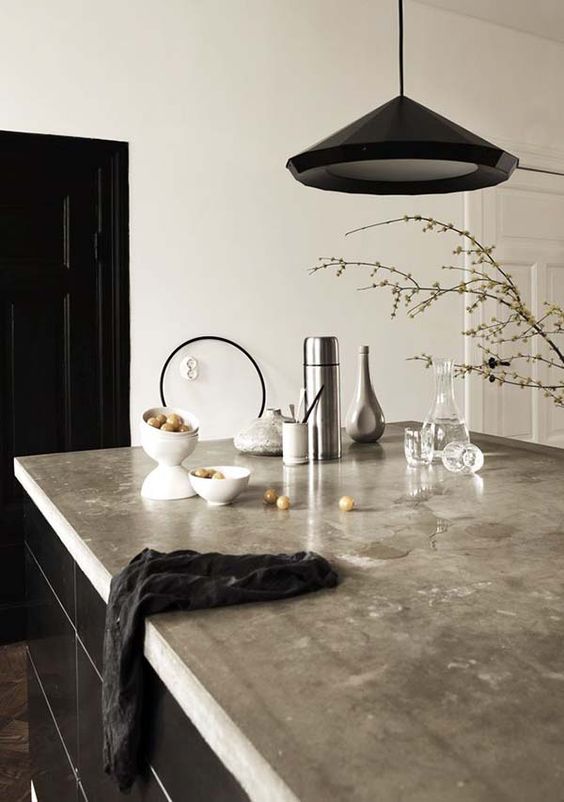 a polished concrete counter is ideal for a modern space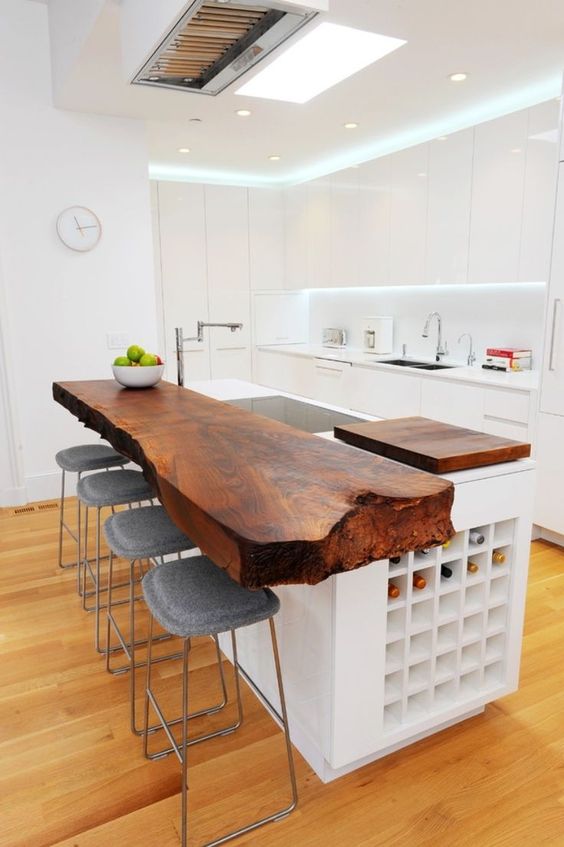 dark stained wooden countertop with a raw edge makes a chic statement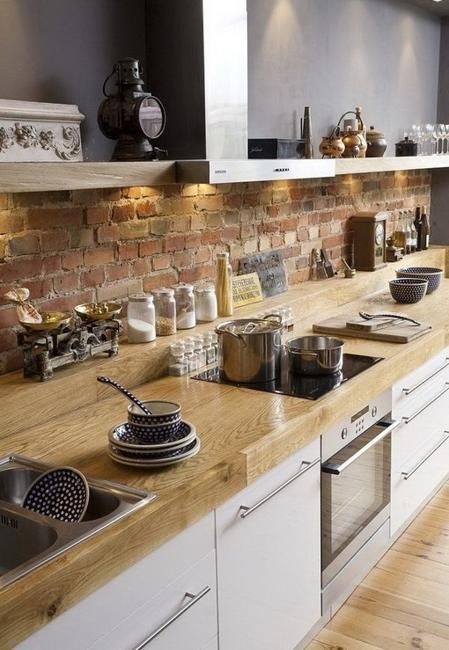 polished light-colored wooden counters enliven the kitchen decor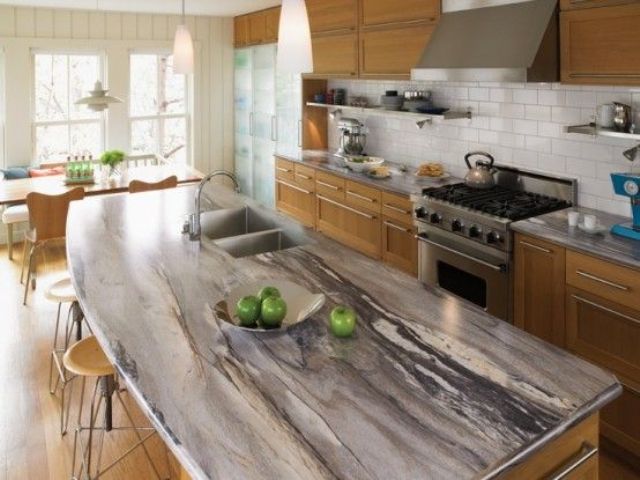 a chic granite counter contrasts with warm-colored cabinets of wood
Install Unique Cabinets
Cabinets are the main thing in any kitchen, and if you take cool ones, they will make a bold statement. Not only colors or patterns are amazing ones for a creative look, you can also choose textured cabinets. They can be shabby chic ones, for example, which fits a vintage or shabby chic kitchen. If you have an eclectic space, try to choose various cabinets with different shapes and colors. You may sand them for a slight shabby look.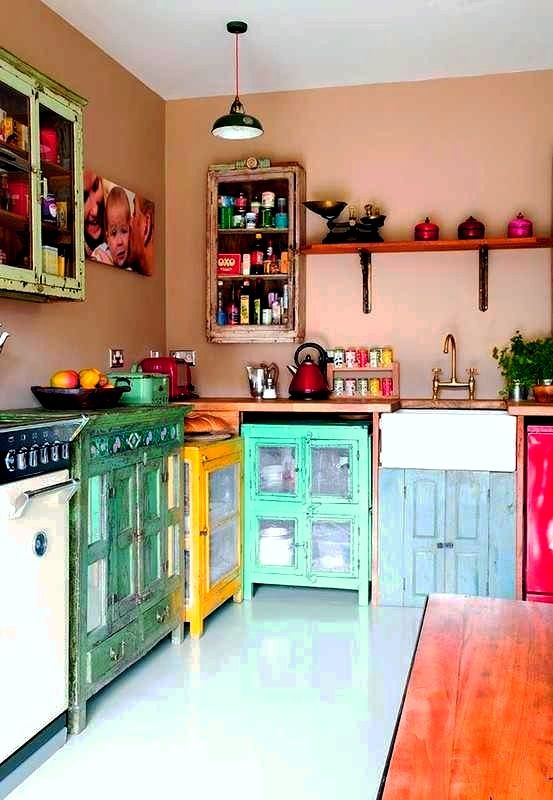 colorful shabby chic cabinets in different shapes and looks for an eclectic kitchen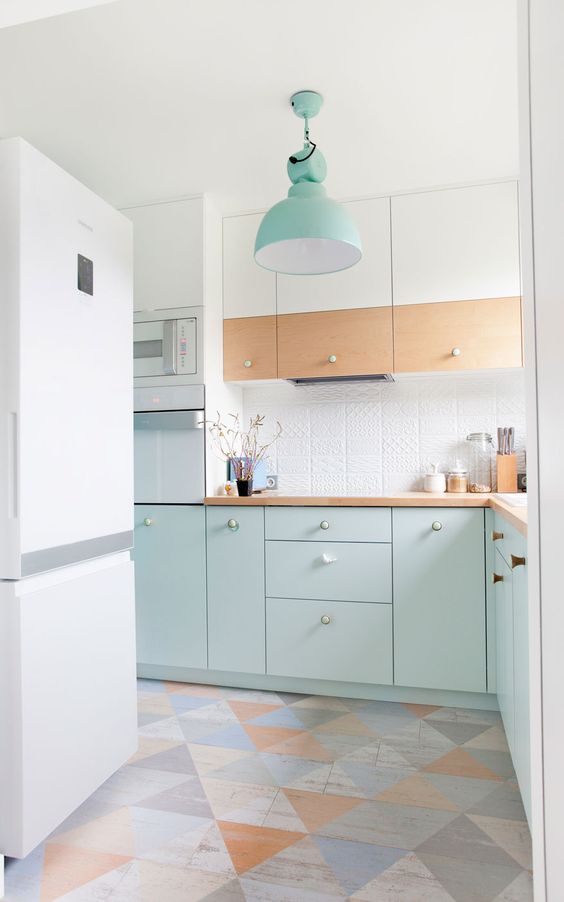 mint-colored cabinets, light-colored and white ones together create a cool look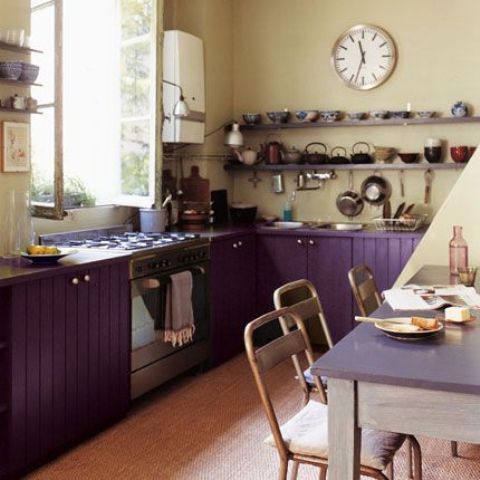 purple kitchen cabinets and creamy walls look interesting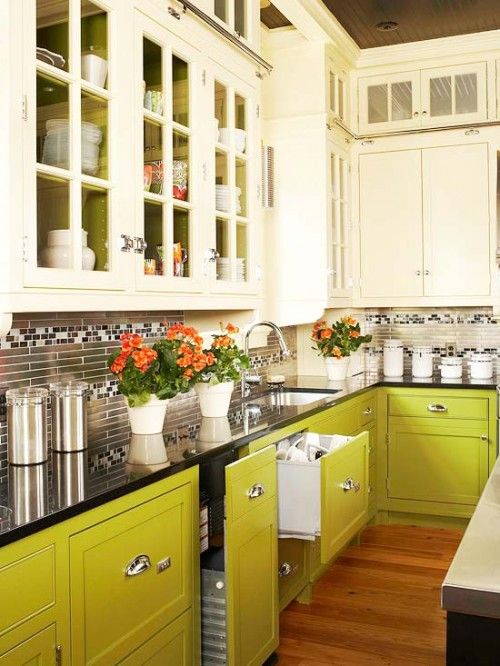 lime green and creamy cabinets create a bold combo
navy cabinets and a wall, marble tiles clad in a chevron pattern
Make A Statement With A Kitchen Island
A kitchen island is in the center of your space, and if you take a super cool one – it will make a statement for sure. Choose a totally different one that will stand out, for example, a wooden one with a vintage look, a marble solid one for a refined look, a brick clad one for a textural feel. Such a kitchen island will pop up even in the simplest kitchen.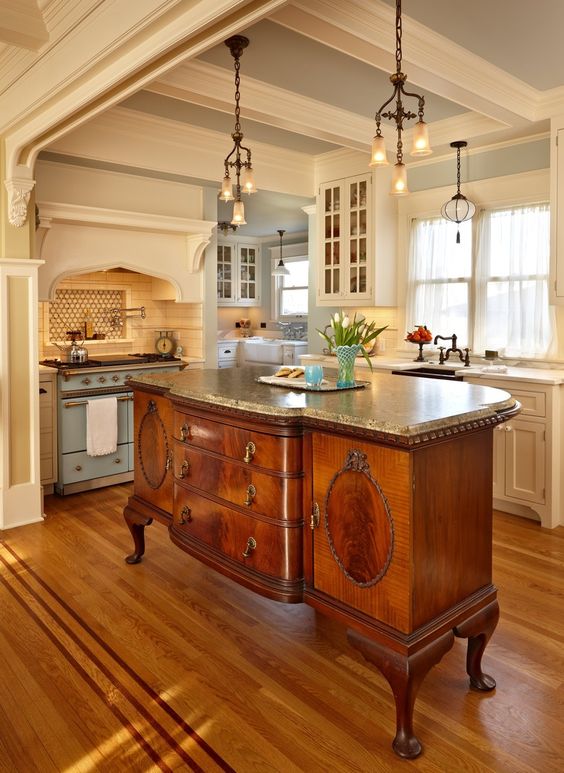 an antique French cabinet with a granite counter used as a kitchen island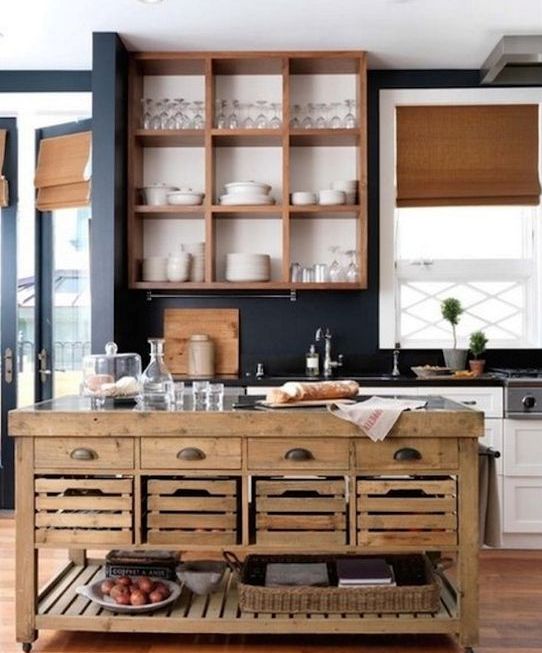 a wooden kitchen island with drawers and pallet boxes and open shelving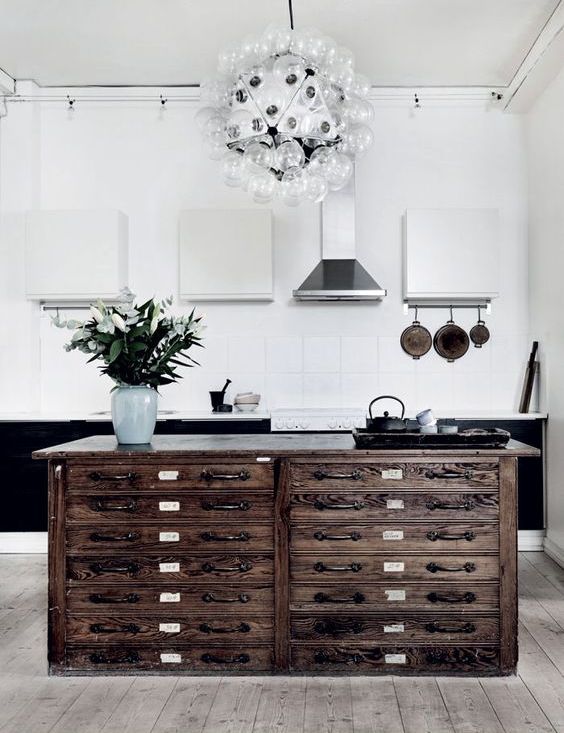 solid dark stained wooden cabinet with drawers and a polish stone top
a vintage rustic table with carved legs and a marble counter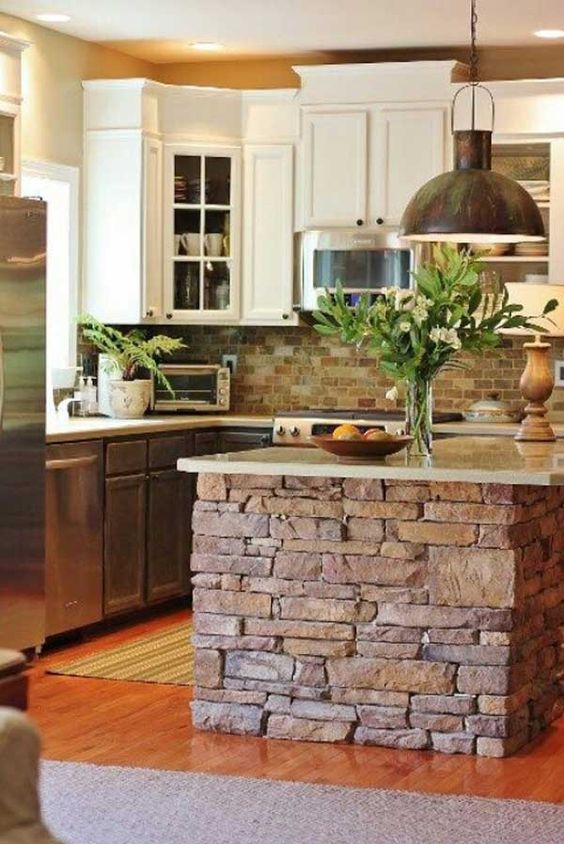 a brick clad kitchen island with a stone top looks textural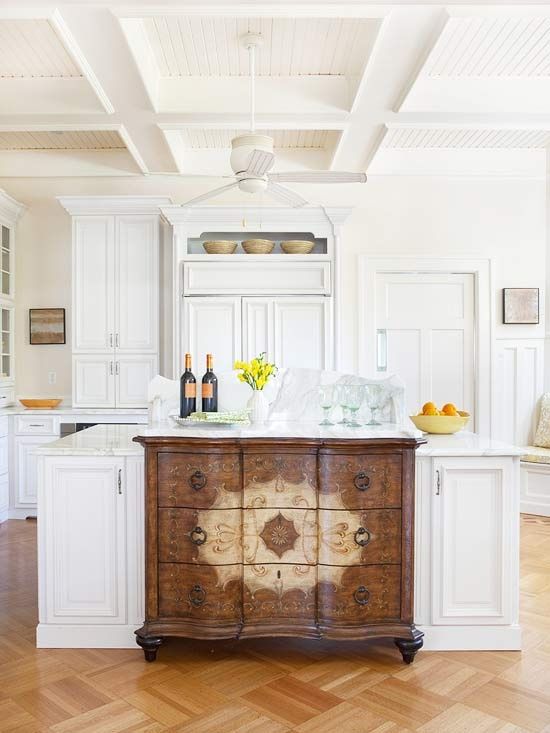 a vintage wooden dresser with decor installed into modern ones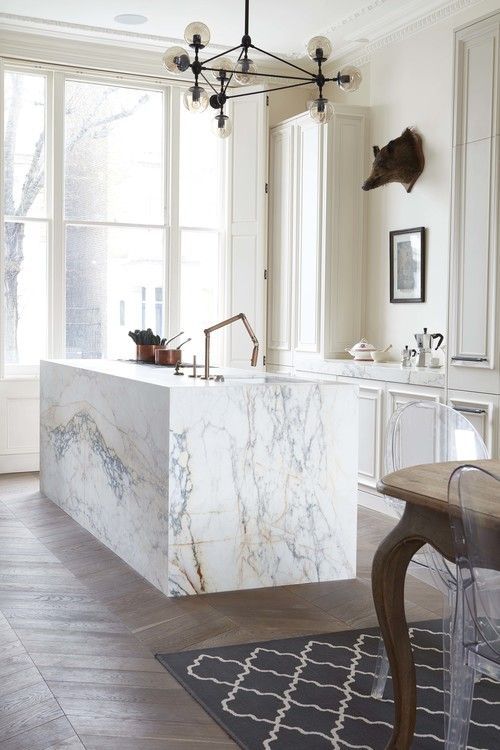 a chic marble kitchen island will make any kitchen exquisite